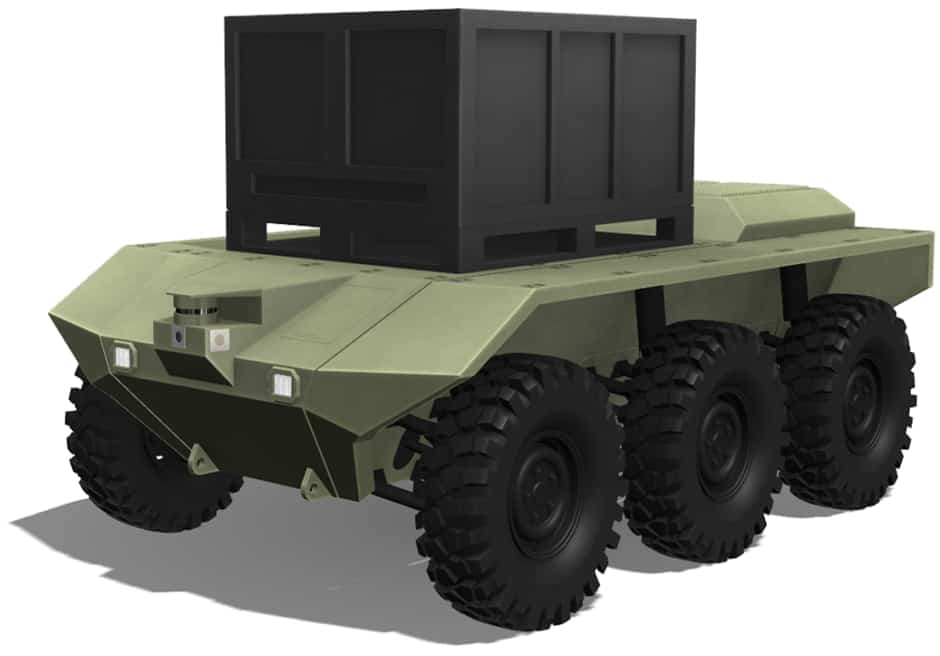 To this end, Horiba Mira has been awarded £700,000 to develop its own end-to-end logistics resupply vehicle. The contract is for the second phase of the Autonomous Last Mile Resupply (ALMRS) competition, a Defence and Security Accelerator (DASA) initiative seeking autonomous systems to deliver mission-critical supplies. Such vehicles could also change how humanitarian aid is delivered.
Defence secretary Gavin Williamson said: "This Autonomous Last Mile competition has seen next-generation concepts come to life and they could be saving troops' lives on the battlefield in years to come."
Horiba Mira's contribution to the competition is Viking, the company's latest all-terrain, multirole UGV (unmanned ground vehicle). The company said the 6x6, two tonne robot is integrated with advanced AI-based autonomous systems, including GPS denied navigation, advanced terrain perception and object recognition. It can deliver up to 600kg of supplies over 200km and utilises a low-bandwidth communication system for command and control.
Using a hand-held terminal, users in the field can make logistics resupply demands which are passed to the UGV. According to the company, Viking can use its advanced autonomy to adapt its own route on roads, tracks and across complex terrain to deliver supplies.
The Viking prototype ALMRS system will be tested and demonstrated alongside Autonomous Warrior Land, a military exercise set to take place on Salisbury Plain in the autumn of 2018. All tests and evaluations on Viking will take place in relevant front-line scenarios.
Andrew Maloney, chief engineer for UGVs and Defence at Horiba Mira, said: "DASA support is enabling us to take novel AI concepts and integrate them into a state-of-the-art unmanned vehicle, to develop an autonomous last mile system for demonstration in very short timescales."