It's not every day you have the opportunity to step into a key role in a piece of classical French literature, but that's what's on offer when you meet Prof Marc Cavazza.
His research group at Teesside University has created a virtual reality (VR) environment in which not only are key characters from Gustave Flaubert's 19th-century literary masterpiece Madame Bovary brought to 'virtual' life - but you can become one of the leading characters.
It is all down to six years of hard work by a dedicated research team within the university's School of Computing - Cavazza and Teesside graduates Fred Charles, Jean-Luc Lugrin and David Pizzi - who are pushing at the frontiers of virtual reality for art and entertainment.
'We used a commercial game engine as a development environment to support real-time visualisation and created new artificial intelligence components to control virtual actors,' said Professor Cavazza.
He described the stage created by the VR system as 'an immersive interactive storytelling environment'. It has three walls and a floor used as screens, and is operated by a computerised system using dedicated software to support real-time stereoscopic visualisation.
Users can step into this VR CAVE, wearing lightweight shutter-glasses to see the full effect, and interact with the virtual characters taken straight from Flaubert's famous love triangle.
As the adulterous affair between Emma Bovary and Rodolphe develops, the user plays the part of Madame Bovary's lover. The user's responses will determine the outcome of the affair and influence the subsequent unfolding of the narrative.
At present, only three chapters of Flaubert's Madame Bovary have been built into the immersive storytelling environment, which Prof Cavazza likens to a Holodeck - familiar to Star Trek fans in which characters entertained themselves in virtual worlds.
'This work has been well received in the scientific community,' said Prof Cavazza. 'We believe it could be the next big thing in interactive TV and digital entertainment. We are currently collaborating on interactive storytelling with both Eidos Interactive and the BBC as part of two externally-funded research projects.'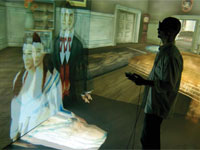 Prof Cavazza said he deliberately took Flaubert's tale of illicit love and potential betrayal as the ideal storyline because it is a psychological novel in which relationships between the characters and their feelings play such an important role.
The VR system was built at a cost of less than £200,000, which Prof Cavazza said is 'incredibly good value thanks to a close collaboration with our supplier'. Original funding for the installation came from the Higher Education Funding Council for England's 'SRIF3' initiative, from the Institute of Digital Innovation's 'concept testing' fund and from part of a previous research project funded by the European Union.
The work also benefited from wide-ranging collaborations. 'We worked together with colleagues at the University of Pittsburgh and at the VR Centre of Laval in France to design specific software and hardware components and the project's visuals were sub-contracted to a graduate business created by former students of the School of Computing who set up 3rd Dimensions Creations on the campus', said Prof Cavazza.