A Northeastern University computer scientist has created an empathetic 'virtual nurse' to help patients who are about to be discharged from a hospital stay to understand and follow their care instructions.
The virtual nurse, developed by Timothy Bickmore, assistant professor of computer and information science, can be brought to a patient's bedside via a computer on a wheeled kiosk. The patient is able to control the interaction with a touch-screen display.
Typically, patients spend about 30 minutes with the virtual nurse, reviewing an 'After-Hospital Care Plan' booklet that they have been given.
A three-year clinical trial of the virtual nurse began at the Boston Medical Center in autumn 2008. The trial will ultimately enrol 750 patients; 220 have participated so far.
Results to date indicate that patients find the system easy to use and even preferable to receiving the information from a live doctor or nurse.
Patients also express appreciation for the time and attention that the virtual nurse gives them and see her as an additional authoritative source for medical information, said Bickmore.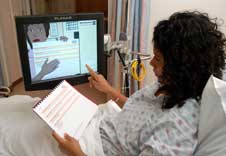 The research is the result of a collaboration between Bickmore and the Boston Medical Center and is sponsored by the US National Heart, Lung and Blood Institute of the National Institutes of Health, along with the Agency for Healthcare Research and Quality.