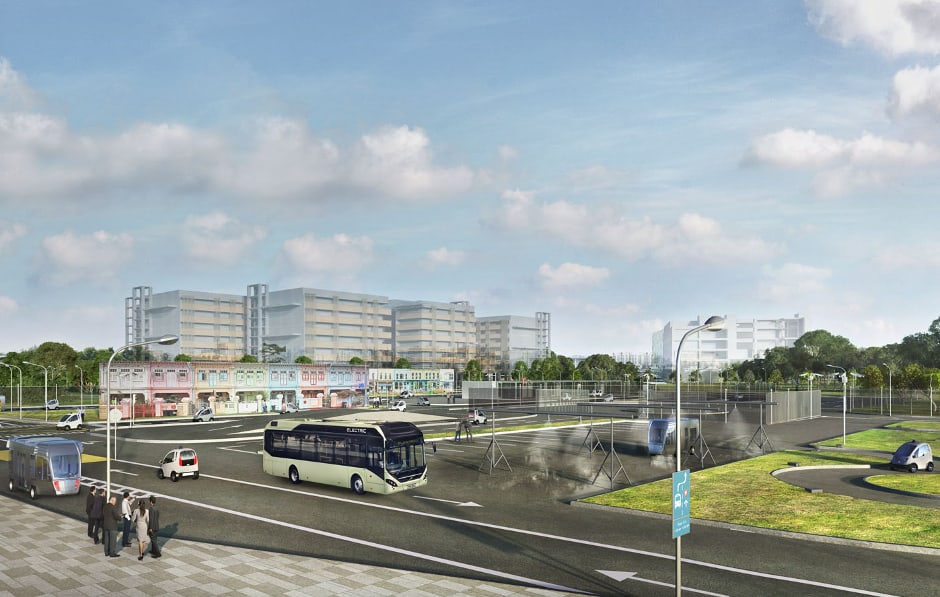 Volvo is already active in autonomous mining, quarry and refuse collection operations, but the trial marks the company's first foray into autonomous public transport.
The 40-seater Volvo 7900 electric buses to be deployed in Singapore will be equipped with technologies that include GPS and LIDAR laser technology systems for charting, positioning and detecting obstacles around the vehicle, and an integrated navigation system that includes automated steering, gear changing, and speed throttling technologies.
The buses will be tested from early 2019 at the Centre of Excellence for Testing and Research of Autonomous vehicles at NTU (CETRAN). The autonomous vehicle test circuit is modelled after real road conditions in Singapore and features a rain simulator and flood zone to test autonomous vehicles' navigation abilities under tropical weather conditions.
The NTU and Volvo partnership is part of a collaboration between NTU and the Land Transport Authority (LTA) under the university's living lab platform announced in October 2016. The living lab platform assesses technology maturity and road-worthiness, including the certification of the technologies for deployment on public roads.
The NTU-Volvo programme will be supported by SMRT and ABB, which will be assessing the vehicles' roadworthiness and charging systems.
"We are seeing fast-growing interest in both autonomous and electric vehicles in cities all over the world. Together with NTU, one of the world's leading universities of technology, we now have the possibility of testing various solutions under realistic conditions in a major city that has high ambitions for its public transport," said Håkan Agnevall, president Volvo Buses.
Singapore's public transport operator SMRT will also help to determine the roadworthiness of autonomous vehicles and assist in operational trials. One of the buses will undergo tests at a local bus depot managed by SMRT in order to test the vehicle's capabilities to autonomously navigate into vehicle washing bays and park safely.