UK firm FundamentalVR is enhancing its VR surgery simulation platform with the addition of the HaptX Glove, giving surgeons haptic feedback directly to their hands.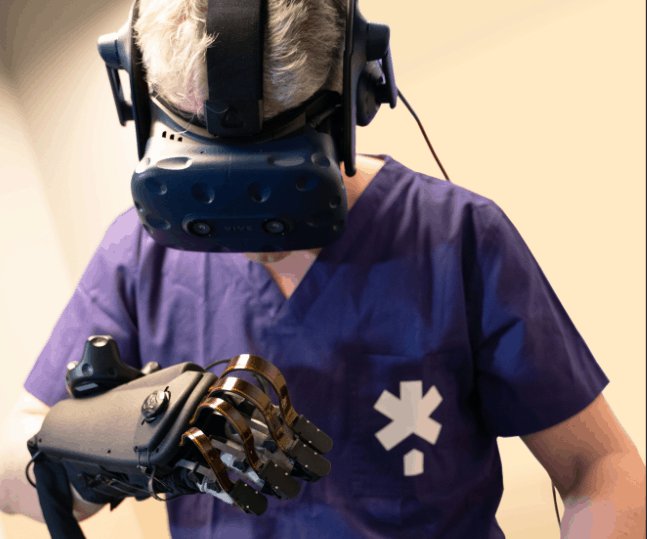 Fundamental's Surgical Haptics Intelligence Engine is designed to mimic the feel of operating on various types of human tissue, from subcutaneous fat to muscle and bone. The platform, which recently won an innovation award at the SXSW festival in Austin, Texas, is hardware agnostic and can be used with a range of off-the-shelf haptic equipment. Until now, this has consisted primarily of haptic pens and arms that simulate surgical tools. But with the integration of the HaptX Glove, users will now be able to engage directly with the VR simulation via their hands, guiding a tool held separately or manipulating the patient's body.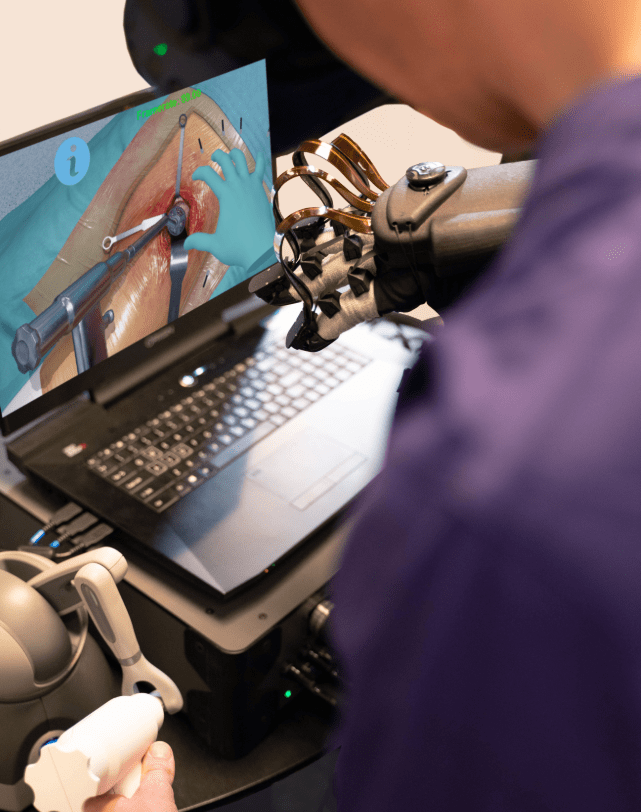 The HaptX glove is powered by microfluidic technology, with 130 actuators providing feedback to the user's skin. This force feedback exoskeleton can apply almost 2kg of force per finger, enhancing the wearer's perception of both shape and rigidity. Combined with motion capture technology that tracks the user's hand movements with sub-millimetre precision, the glove delivers its haptic experience in coordination with the virtual world. FundamentalVR told The Engineer that the glove allows users to fully interact with the simulation, engaging the body, assisting the other hand, or even gripping a surgical tool of its own.
"When it comes to surgical training simulations, a sense of touch is a game changer, but has traditionally only been possible with immobile equipment costing hundreds of thousands of dollars," said FundamentalVR CEO, Richard Vincent.
"Our platform currently works with haptic arms, but is designed to evolve as hardware innovations allow new products such as HaptX Gloves to come to market. We are proud to work with industry leaders such as HaptX and are excited to demonstrate how HaptX Gloves integrated into our Surgical Haptics Intelligence Engine takes the sensation of surgery to an exciting new and natural level."
In a demonstration of the technologies working in tandem, the companies performed a detailed interaction with a simulated patient during an Anterior Total Hip Arthroplasty, allowing users to feel the presence of boney growth around the rim of hip socket as well as identifying a key ligament that helps orientate a surgeon in the next few critical steps. The Engineer was informed that FundamentalVR's entire portfolio of simulated procedures - which include Spinal Pedicle Screw, Total Hip Arthroplasty (Posterior), Total Hip Arthroplasty (Anterior) and Total Knee Arthroplasty - will be made compatible with the HaptX Glove over time.
"The ability to touch and interact naturally with virtual environments is transforming the way industries train workers and bring products to market," said Jake Rubin, founder and CEO of HaptX. "The healthcare industry is at the forefront of this shift, and it's set to be transformed by advancements in VR and haptics. We are delighted to be working with Fundamental Surgery as our first medical partner to demonstrate how HaptX Gloves can make surgical simulations more immersive and effective."