The future of a planet-finding project has been secured until 2011 following a £3m grant to Queen's University Belfast's Astrophysics Research Centre (ARC).
In April, Queen's astronomers announced the discovery of ten new planets as a result of their Wide Area Search for Planets project known as SuperWASP. They are known as extrasolar planets, in orbit around other stars.
Using two new sets of cameras designed at Queen's, SuperWASP watches for events known as transits. This is where a planet passes directly in front of a star and blocks out some of its light, so from the earth the star temporarily appears a little fainter.
The cameras, based on La Palma in the Canary Islands, work as robots, surveying a large area of the sky at once. Each night astronomers have data from millions of stars that they can check for transits. The transit method also allows scientists to deduce the size and mass of each planet.
Now, following a grant of £500,000 from the Science and Technology Facilities Council (STFC), SuperWASP will continue to operate until 2011.
'SuperWASP is now a planet-finding production line and one of the most successful discovery instruments in the world. Seventeen exoplanets have been found in the last two years alone. It will revolutionise the detection of large planets and our understanding of how they were formed,' said Dr Don Pollacco of Queen's ARC.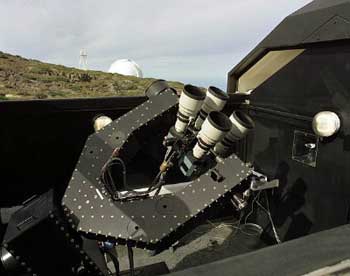 SuperWASP equipped with 4 cameras during commissioning
A further £2.2m, from the Science and Technology Facilities Council (STFC), will support a range of astronomical research programmes within ARC for the next five years.
These include studies of the Sun and other stars, the search for planets orbiting stars other than the Sun (the so-called exoplanets), investigations of supernovae (stars which end their lives in massive explosions), the detection and study of comets and asteroids, and the investigation of chemical processes in material from which stars form.
More on the SuperWASP project can be found at http://star.pst.qub.ac.uk/wasp/