A process developed at the University of Waikato in New Zealand will allow animal waste to be turned into a useful biodegradable plastic.
The new process, developed over two years by University of Waikato chemical engineer Dr Johan Verbeek and Masters student Lisa van den Berg, can turn animal protein waste like blood meal and feathers into a biodegradable plastic using industry-standard plastic extrusion and injection moulding machinery.
'The material we can produce has the strength of polyethylene - the plastic used in milk bottles and plastic supermarket bags - but it's fully biodegradable,' said Dr Verbeek.
'Proteins are polymers so we know they can be turned into plastics,' Dr Verbeek said. 'Plant proteins have successfully been used to make bioplastics, but animal protein has always ended up gumming up the extruder. The process we've developed gets round that problem.'
He said a group of design students was drawing up a blueprint for a commercial-scale plant to assess the commercial viability of producing bioplastics from animal protein waste.
Dr Verbeek expected the bioplastic would be suitable for agricultural plastic sheeting, seedling trays, plant pots and even biodegradable golf tees, for which, he said there was a surprisingly high demand.
University of Waikato Vice-Chancellor Prof Roy Crawford said farmers faced pressure to work in an environmentally sustainable way, and this type of innovation from the university could help them.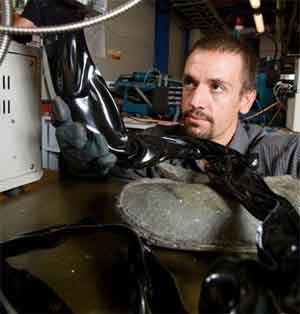 University of Waikato scientist Dr Johan Verbeek says the bioplastic created from animal protein waste can be used for plastic sheeting
Novatein, a company set up to commercialise the scientists' findings, has attracted an injection of venture capital from venture capital firm Endeavour Capital, through the university's commercialisation arm WaikatoLink.
The scientists' process, which is being patented through WaikatoLink, is one of four new technologies that have attracted more than $1m in investment from Endeavour Capital. The funds will be used to develop prototype products in this case.