A Scottish renewable-energy project will create enough green electricity to power more than 1,000 homes, while cutting annual carbon emissions by the equivalent of around 30,000 tonnes.
The project involves capping a waste disposal site at Easter Langlee near Galashiels, Scotland, with plastic to prevent methane escaping into the atmosphere. Wells have been drilled to transfer the gas to a compact generator where the electricity conversion process takes place.
The plant has the capacity to generate up to 1MW of power for the national grid.
The landfill gas-generation scheme has been designed, developed, financed, and is operated by Manchester-based sustainable power group ENER-G. A 15-year contract to operate the plant has been signed between the company and Scottish Borders Council.
'We will be using two generators with a total rated capacity of 800kW minimum and this capacity may be increased if there is sufficient gas production,' said Hugh Richmond, managing director of ENER-G Natural Power.
The project is funded entirely by ENER-G and the company will pay a portion of the revenue generated from the production of electricity to the council.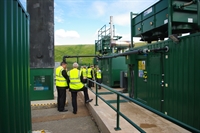 'The system involves an innovative application of tried-and-tested technology, which is why we can guarantee minimum service levels to the council,' added Richmond.