UK communications company Orange has announced that it will be bringing LG Electronics' Watch Phone to the UK at the end of this month.
LG Electronics first unveiled the Watch Phone with its 3G Video Telephony service and GSM Quadband Network capabilities at the CES 2009 show earlier in the year.
The phone is a follow-up to the prototype that LG introduced at CES 2008 and includes a number of upgrades, including a full 3.63cm touch-screen interface, 3G capabilities and video calling.
The Watch Phone, which has a curved tempered glass face and is a mere 13.9mm thick, is claimed to be the first touch watch phone in the world to feature 7.2Mb/s 3G HSDPA compatibility, enabling data transmission and video phone calls using its built-in camera.
Voice-recognition features can be used with, or without, a Bluetooth headset. Text to Speech (TTS) software reads text messages and other information aloud for greater convenience.
The phone also includes Bluetooth, a built-in speaker for playing back music files, as well as a large phonebook and scheduler.
The first of the £500 devices will go on sale on 27 August in the Orange shop in Bond Street, London.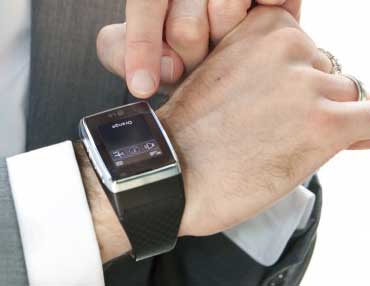 LG Electronics' £500 Watch Phone comes to the UK this month