The WATERS fund (Wave and Tidal Energy: Research, Development and Demonstration Support) has provided Aquamarine Power with more than £3m to develop its 2.4MW Oyster demonstration project in Scotland while AWS Ocean Energy received £1.39m to develop its AWS-III surface-floating wave power device.
Phased installation of the Oyster 2 project will begin at the European Marine Energy Centre (EMEC) in Orkney in Summer 2011. In-depth coverage of Oyster from The Engineer's 2009 Awards Supplement can be read here.
The Oyster demonstration project will consist of three 800kW hinged flaps, each measuring 26m by 16m. The flaps are moved by the motion of near shore waves, which in turn drive two hydraulic pistons that push high-pressure water onshore to drive a conventional hydro-electric turbine.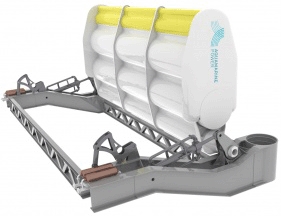 Aquamarine Power claims each flap will deliver 250 per cent more power than the original Oyster prototype, which was successfully deployed at EMEC in 2009.
The three devices will be linked to a single onshore 2.4MW hydro-electric turbine. The new devices incorporate modifications that are expected to facilitate the production of more energy, be simpler to install and easier to maintain.
AWS Ocean Energy will use its funding to further develop the AWS-III device, a ring-shaped, multi-cell, surface-floating wave power system.
It is claimed that a single utility-scale AWS-III, measuring around 60m in diameter, will be capable of generating up to 2.5MW of continuous power.
Scale testing of the AWS-III on Loch Ness is currently being carried out to provide design data and confirm the AWS-III's commercial potential.
But Aquamarine Power and AWS Ocean Energy were not the only renewable companies awarded money from the fund.
For its part, RWE npower received £6m that it plans to use to construct one of the world's largest wave stations, the ten turbine, 4 MW Siadar project off the Western Isles using the £6m it has received.
With the £560,000 it has been granted, Ocean Flow Energy will build and deploy the 'Evopod', a 25kW floating grid connected tidal energy turbine at Sanda Sound in South Kintyre.
Lastly, OpenHydro will use its £1.92m WATERS grant to support the development of a power conversion and control system to deliver a method of connecting marine energy devices in arrays.
The £15m WATERS scheme, which is run and administered by Scottish Enterprise, has been designed to support the construction and installation of pre-commercial full-scale wave and tidal stream device prototypes in Scottish waters.