York University is exploring whether the new extension to its main campus is a suitable site for up to two wind turbines.
It is working with Partnerships for Renewables on a feasibility study which will assess whether an area of the 117-hectare site is an appropriate location.
Partnerships for Renewables was established by the Carbon Trust to work with public sector bodies to develop renewable energy projects that offer benefits to both the organisation in question and the local community.
Elizabeth Heaps, the university's pro-vice-chancellor for estates, said: 'As with all significant developments, we wish to consult with the York community. I hope people will take this opportunity to let us know what they think as we explore the potential for this idea in the coming months. Wind turbines could bring considerable benefits in helping us to meet our stringent renewable energy targets for the whole campus, but we need to be sure this is an appropriate solution.'
Jo Fleming, regional manager for Partnerships for Renewables, said: 'We are currently undertaking feasibility work to establish whether we should progress to the more detailed environmental work that is ultimately required before a planning application can be made. We are committed to only developing wind turbines in appropriate locations and if we get results back from any of our studies that show that a site is not appropriate we will stop working on it.'
The development process is a long one and it is likely that even if the results of studies and consultations are positive it may be two years before a planning application comes forward.
Following the completion of initial assessments, if a decision is taken to go ahead with the turbines, it is likely that they will be located within the area highlighted in red on the plan below.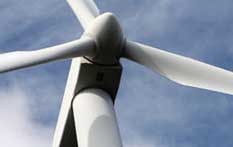 Anyone with an interest in the project can keep up to date with the latest information at www.pfr.co.uk/universityofyork.