Plans for the first-ever wind turbine to help power a major British sewage treatment works (STW) with its own green energy have been given the go-ahead.
Thames Water's Crossness plant in east London already generates around 20 per cent of the energy it needs with its sewage sludge-powered generator.
But the erection of an 86m-high, 2.5MW turbine as part of a multi-million pound extension to the works will, in the right weather conditions, see the plant produce as much as 50 per cent of the energy it requires.
A spokesman for the British Wind Energy Association said: 'The 2.5MW Crossness turbine marks a growing trend among British businesses to generate their own energy from wind, with the option of exporting surplus energy to the grid.'
Further investment at Crossness, one of the largest STWs in Europe which currently deals with two million people's waste, is needed to help the plant cope with the challenge of climate change and population growth.
Currently during heavy downpours, the sudden influx of sewage bulked up by rainwater results in diluted effluent overflowing into the Thames.
For that reason, Thames Water also aims to boost its capacity by 44 per cent, reducing these incidents and improving the environment along the Thames.
Equipment to minimise odours from the site will also be installed in a project expected to create 200 new jobs during the construction phase.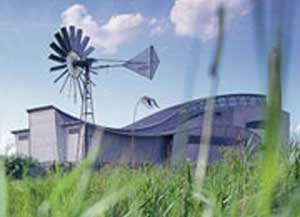 Construction work on the Crossness project will begin in early 2009 and is due for completion in 2013.
It forms part of a wider £400m programme to improve Thames Water's sewage treatment works across London and to reduce the company's carbon emissions to 20 per cent below 1990 levels by 2015.
The plans, which won Bexley council planners' approval last month following a referral to London mayor, Boris Johnson, also include wildlife habitat enhancements to the nearby Crossness Nature Reserve and Southern Marshes.