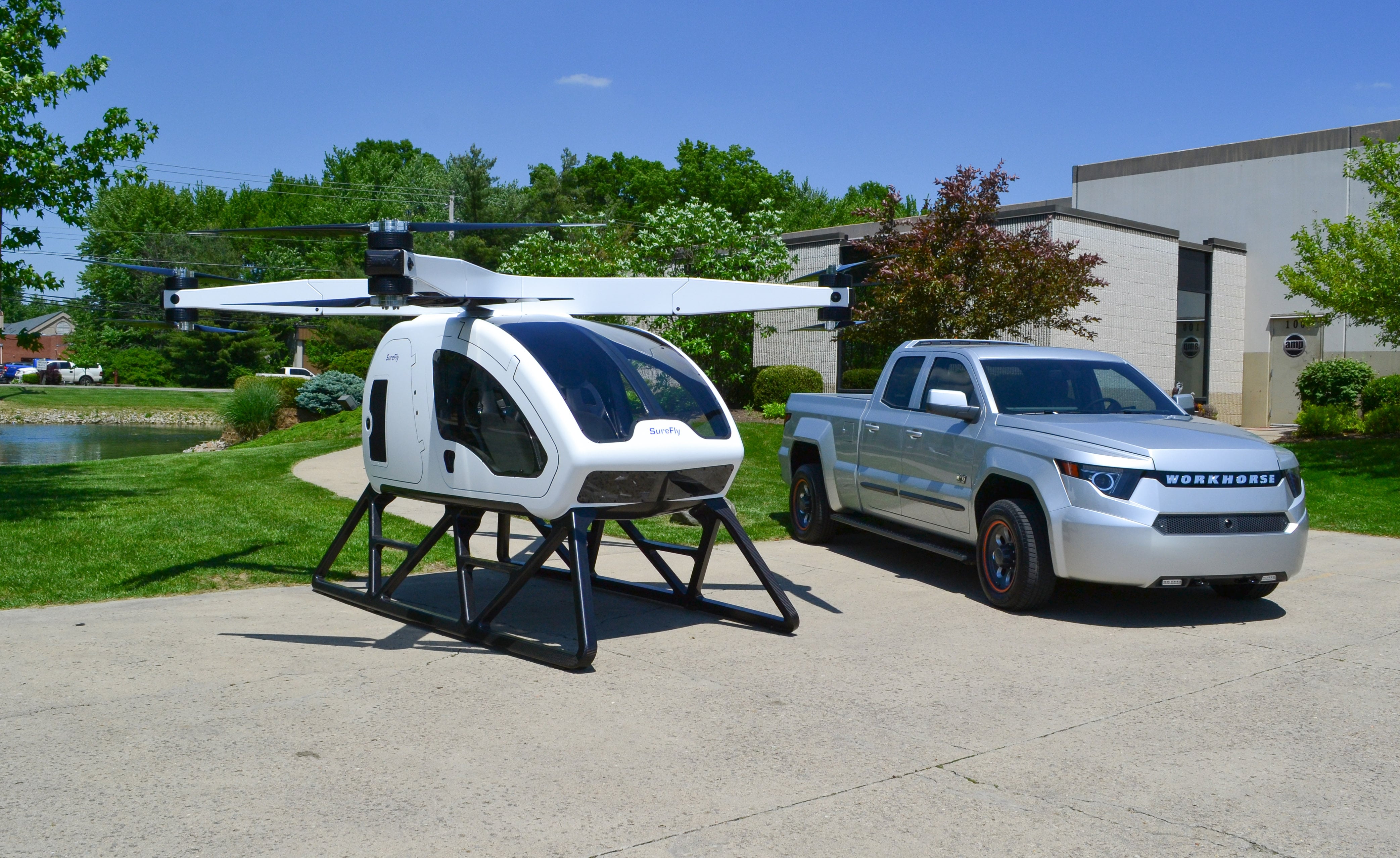 The two-seater SureFly helicopter will fly for the first time on 8 January 2018 in Las Vegas, before next year's CES exhibition, subject to regulatory approval and suitable weather, according to its developer, Cincinnati, Ohio-based electric propulsion specialist Workhorse. Claimed to be the world's first personal hybrid octocopter, the SureFly is scheduled to be on static display at the major showcase event for consumer electronics.
SureFly is designed to be easier to fly, safer and cheaper than a conventional helicopter, according to Workhorse. Each of four orthogonally-arranged propeller arms carries two contra-rotating propellers, each driven by its own electric motor. These run off a generator that is itself powered by a petrol-driven piston engine, although the aircraft is also equipped with two 7.5kW lithium battery packs that will provide five minutes' of power for emergency landings in the event of engine failure. For extra safety, it is also equipped with a ballistic parachute. Initially piloted, future models will be autonomy-capable with a maximum payload of 400lb (180kg), Workhorse claims.
Workhorse's previous aviation products were carbon-fibre rotorcraft drones, and it uses the same lightweight construction in the SureFly: around the size of a pick-up truck, it tips the scales at 1500lb (680kg) maximum takeoff weight with two people on-board and cargo. For simplicity, the propellers are fixed-pitch and there are no tilting components. With a claimed flight time of one hour on a single tank of petrol, a service ceiling of 4000ft (1200m) and maximum speed of 70mph (113km/hr), it is initially targeted at precision agriculture, emergency services, military and city commuters.