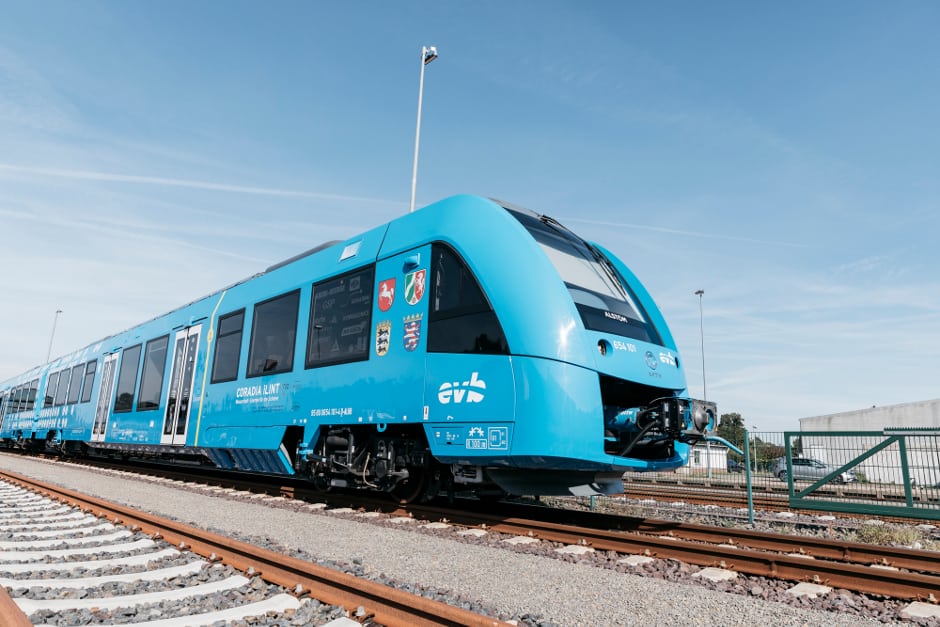 Capable of travelling at up to 140km/h, the two Alstom Coradia iLint trains will serve a 100km route running between Cuxhaven, Bremerhaven, Bremervörde and Buxtehude. The line was previously served by diesel units operated by Eisenbahnen und Verkehrsbetriebe Elbe-Weser (EVB).
The new trains will be fuelled at a mobile hydrogen filling station, where gaseous hydrogen will be pumped into the trains from a 40-foot-high steel container at Bremervörde station. According to Alstom, one tank will provide enough fuel for 1000km of travel.
A stationary filling station on EVB premises is scheduled to go into operation in 2021, when Alstom will deliver a further 14 Coradia iLint trains to the Landesnahverkehrsgesellschaft Niedersachsen (LNVG) transport authority at a cost of €81m.
"The world's first hydrogen fuel cell train is entering passenger service and is ready for serial production," said Henri Poupart-Lafarge, chairman and CEO of Alstom. "The Coradia iLint heralds a new era in emission-free rail transport. It is an innovation that results from French-German teamwork and exemplifies successful cross-border cooperation."
"In successfully proving the operability of the hydrogen fuel cell technology in daily service, we will set the course for rail transport to be largely operated climate-friendly and emission-free in the future," added Dr Bernd Althusmann, Lower Saxony's minister of Economy and Transport.
Germany's federal government supported the development and testing of the new drive technology via funding the National Innovation Programme for Hydrogen and Fuel Cell Technology.
"Hydrogen is a real, low-emission and efficient alternative to diesel," said Enak Ferlemann, Germany's Government Commissioner for Rail Transport. "These trains can be operated cleanly and in an environmentally friendly way, especially on secondary lines where overhead lines are uneconomical or not available yet. We therefore support and fund this technology, in order to expand it."
In a separate development, Bombardier welcomed Ferlemann and other guests on the maiden voyage of the Talent 3 electro-hybrid train at the company's Hennigsdorf site on September 12, 2018.
According to Bombardier, the new battery-operated train is the first of its kind to enter passenger operation in Europe in over 60 years and is claimed to 'set the standards for smart mobility' with peak values of 90 per cent in the areas of efficiency and recyclability. It is also around 50 per cent quieter than modern diesel trains.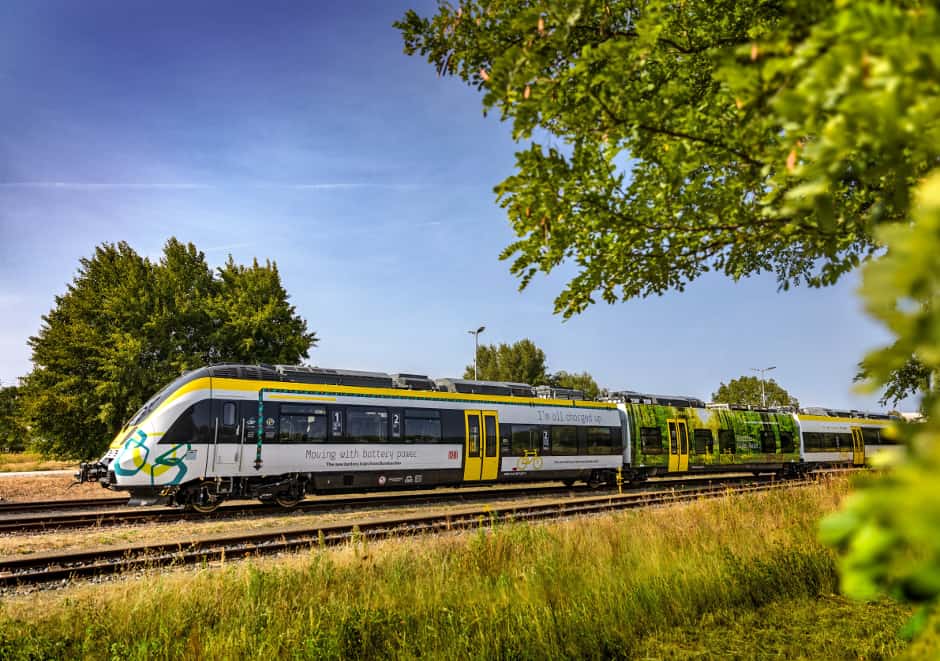 "We want to continue to electrify rail transport. A train that can charge its batteries from the overhead line while driving is a huge step toward this and the epitome of innovation," said Ferlemann. "On non-electrified or only partially electrified routes, the motto is: move away from diesel on the tracks and toward cleaner and more environmentally-friendly mobility."
"This train is Bombardier's technological response to challenges such as air pollution, climate change and scarcity of resources," said Michael Fohrer, head of Bombardier Transportation in Germany. "Around 40 per cent of the German rail network is not electrified. The Bombardier battery-operated train is an attractive option to counter that."
The current prototype is equipped with four Bombardier MITRAC traction batteries and can travel routes of around 40km. Bombardier claims that in 2019, the next generation of battery-operated trains will cover distances of up to 100km on non-electrified railways. In 2019, Deutsche Bahn (DB) will start a twelve-month trial run with passengers with the current prototype in the Alb-Lake Constance region.