A wrist mounted translation device being developed for the uniformed services has put Derby University in the running for a prestigious business innovation award.
Derby is one of five universities shortlisted in the Innovation in Development category of the first Lord Stafford Awards east Midlands, for its collaboration with Civil Defence Supply (CDS) of Lincoln.
The awards, established in 1997 in the West Midlands, recognise and encourage the development of collaborative relationships between businesses and universities. They are being held for the first time this year in the east Midlands.
Derby University design graduate Amin Ismail, born in Iraq, landed a job with CDS after designing the prototype for the AHKY - Arabic for 'speak' - a wrist mounted verbal translation device to help soldiers and uniformed civilians interpret key foreign phrases in emergency situations.
CDS is a multi-million pound company that supplies special operational equipment to police forces, NATO, the United Nations, the US DOD and the UK's Ministry of Defence.
Its technology includes long range photography, heat seeking devices and attachments to surveillance. Its role has been likened to that of the fictional 'Q' branch in the James Bond films, creating more unusual devices and gadgets.
'We learnt of Amin from the massive press coverage over his AKHY concept and made immediate contact, as we had conceived the need for a language translator some two years ago,' said Eran Bauer, CDS' director of Civil Defence Supply.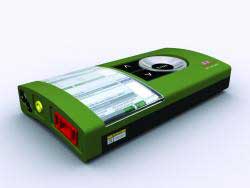 'The translator is now ready for the market and Amin is a key member of that team. We have successfully married this student's novel ideas to our designs and made a world class device that can radically change the way people integrate with those of different cultures.'
Derby University, along with all others shortlisted, is due to be visited this month for the second part of the judging process. The judging panel will be joined by Lord Stafford.
Awards winners will be announced on Thursday 11 September at a dinner at Goosedale conferencing and banqueting, near Papplewick, Nottinghamshire. The winners of each category will receive £5,000.