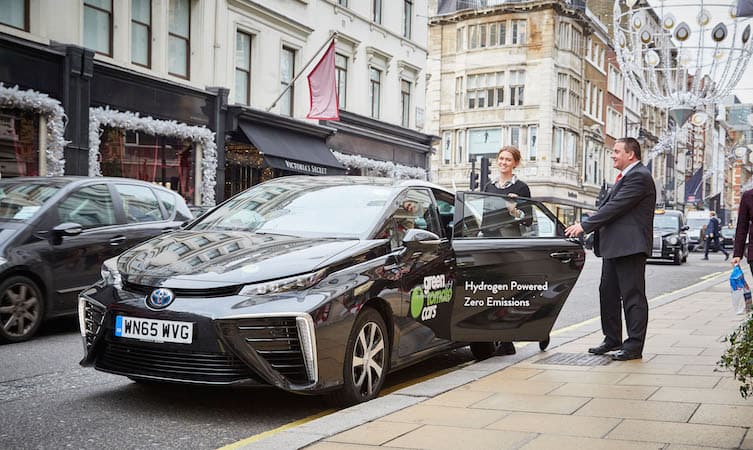 Green Tomato teamed up with Toyota in 2015 for London's first hydrogen-fuelled private hire vehicle (Credit: Toyota)
ZEFER (Zero Emission Fleet vehicles for European Roll-out) will see a total of 180 fuel cell electric vehicles (FCEVs) in service, divided equally across London, Paris and Brussels. The €26m project is designed to explore how hydrogen fleets perform in the real world, and the cars will be deployed as taxis and private hire vehicles (170) as well as police cars (10), driving long distances each day and requiring rapid refuelling.
Led by Cambridge-based consultancy Element Energy, the ZEFER consortium also includes hydrogen suppliers (Air Liquide and ITM Power Trading), vehicle end users (Green Tomato Cars, HYPE and the London Mayor's Office for Policing and Crime), observer partners (BMW and Linde) and partners supporting the analysis and policy conclusions (Cenex and the Mairie de Paris). The trial begins this week in London, with Green Tomato deploying 25 Toyota Mirais as private hire vehicles.
"This is a truly unique project where investors in hydrogen technology, manufacturers of hydrogen cars and Green Tomato Cars as the end users, have come together with a commitment to make hydrogen transport work for the good of the people and the environment," said Jonny Goldstone, managing director of Green Tomato Cars.
As well as testing the cars under high-mileage operation, the project aims to bolster the hydrogen infrastructure in each of the cities. With the vehicles in daily use, each will create hydrogen demand roughly four times that of a regular privately-owned car. According to the consortium, the goal is to gather data and disseminate results to demonstrate the business case for future FCEV adoption.
"We are delighted to be leading this major project which will demonstrate commercially viable use cases for hydrogen fuelled vehicles in high mileage urban fleets," said Ben Madden, director at Element Energy.
"The increasingly widespread hydrogen infrastructure network in leading European cities as well as new FCEV models from manufacturers are beginning to drive real market adoption. We are excited to see first large-scale users starting to take up the technology in large fleets to do the day to day work of vehicles which operate in urban centres."