More than 2,500 patients are diagnosed with cancer of the throat every year in the UK, with up to 15 per cent requiring a laryngectomy (removal of the larynx) resulting in the loss of speech.
Speech restoration after the operation is one of the great challenges in head and neck cancer surgery. Currently, the most common approach is to use a speech valve which reconnects the trachea (wind pipe) and oesophagus (food pipe), and allows some vocal function to be restored.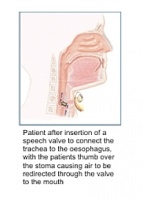 But current speech valves are made from silicone rubber that can deteriorate rapidly due to biofilm growth and fail totally within three months.
Avoco Medical's Kingston Speech Valve (KSV), on the other hand, is manufactured from zirconia, an engineering ceramic which is very hard with a surface finish that is resistant to biofilm growth.
Laboratory tests indicate that the unique design of the valve will have a significantly longer life than the designs currently available. A conservative estimate is two years, but data gathered so far indicate that it could last much longer.
The speech valve design, which is protected by a worldwide patent, will be supplied with a specially designed multi-function insertion tool.