Earlier this month (July 2017) saw the twelfth annual International Conference on Additive Manufacturing and 3D Printing. Held at the Nottingham Belfry Hotel, a total of 280 delegates from 18 countries, 29 exhibitors and 36 speakers took part across the three-day event. This year's programme included a full 'pre-conference' day, which saw the conference team-up with Innovate UK's Knowledge Transfer Network for the first time to explore the 'Industrial Realities of Additive Manufacturing' as well as the UK National Strategy on AM.
The conference always prides itself on having an 'eclectic' mix of speakers from academia, government and industry and this year was no exception. For every new development and research topic presented, there were presenters sharing real world examples of what's being done today with the technology – along with the benefits and challenges AM can bring to the manufacturing of goods.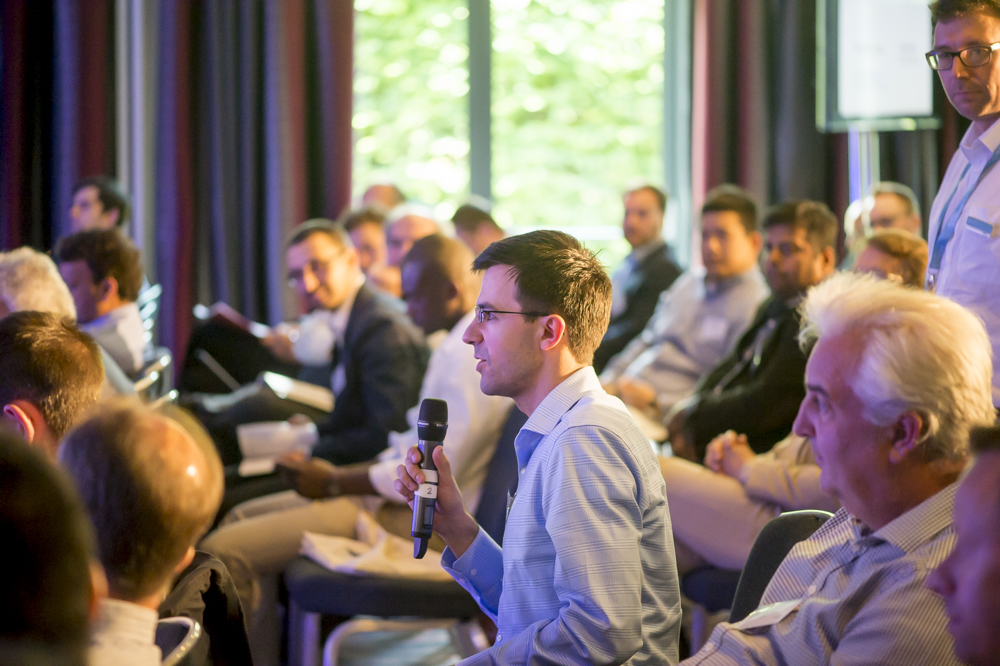 Even with the eclectic mix of speakers - ranging from multinational industry players to SMEs, microbusinesses and research labs - there were several common themes running through the presentations and discussions:
The need for greater education and upskilling in the industry

Challenges in testing and measurement and the hindrances for certification and standards development

How AM fits into the wider picture, rather than existing in a vacuum; bridging the 'Valley of Death' between research and Industry
These challenges were introduced as part of the 'realities' facing the AM sector during the pre-conference presentations and resurfaced as part of many of the presentations that followed throughout the main conference. As a conference not interested in perpetuating the hype associated with AM technologies, the speakers discussed the issues they are facing in making AM a viable, profitable technology.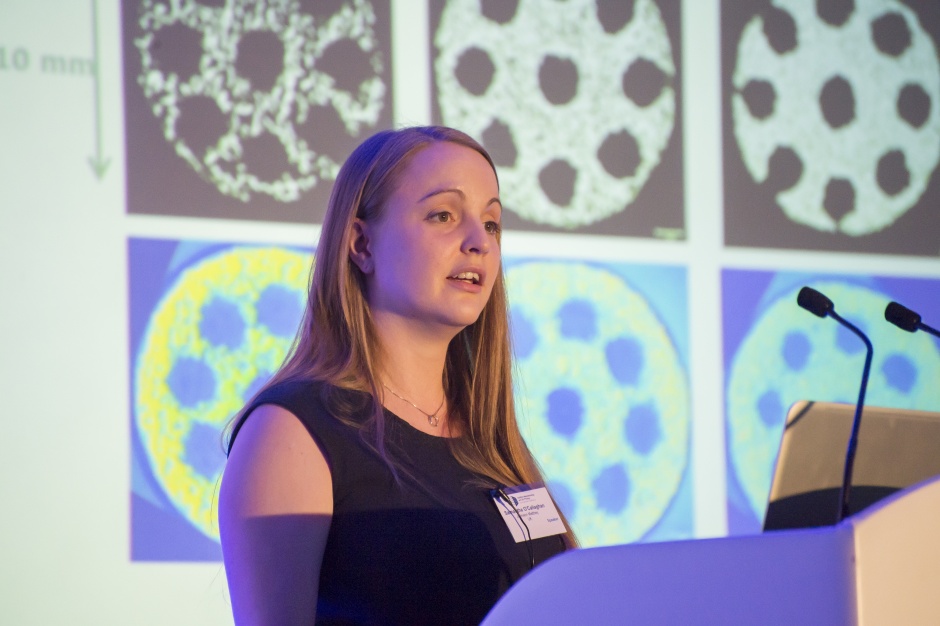 Developing a national strategy
Robin Wilson from Innovate UK kicked off the pre-conference afternoon session with a series of presentations and panel discussion from the AM strategy steering group aimed at updating us all on the development of the UK National Strategy for AM. He was followed by representatives from each industry sector committee:
Materials and processes

Design

Measurement/Inspection/Testing

Skills/Education

Cost/Investment/Financing

Standards/Regulations

IP/Protection/Secrecy
Each presented the challenges and processes their groups have faced in developing the overall national strategy, which they aim to present to UK government in September this year. The main takeaways from the day: AM is a widespread, diverse industry that can be hard to define. In order for it to advance and be a priority on the government agenda, the industry needs to collaborate and work as part of the wider manufacturing industry – AM will not survive in a vacuum. It needs government and industry support to develop skills and train the current and future workforce on how - and when - to use the technology.
AM success stories
The challenges thrown up by the 'Industrial Realities' speakers need to be taken seriously, but they are not stopping new development in AM technology. Many companies built on AM are thriving and experimenting with the technology. Take Metron Advanced Equipment, for example, Dimitris Katsanis kicked off the first day of the full conference not only speaking about Chris Froome's Ti printed handlebars, but also the 'dense build' technique he and his team have developed for printing a number of parts at once in an effort to save time and make their products more cost effective. Metron recently used AM to produce 252 bicycle seat brackets in one go over 102 hours using almost 6Kg of solidified Ti6Al4V. The minimum gap between components was 1mm.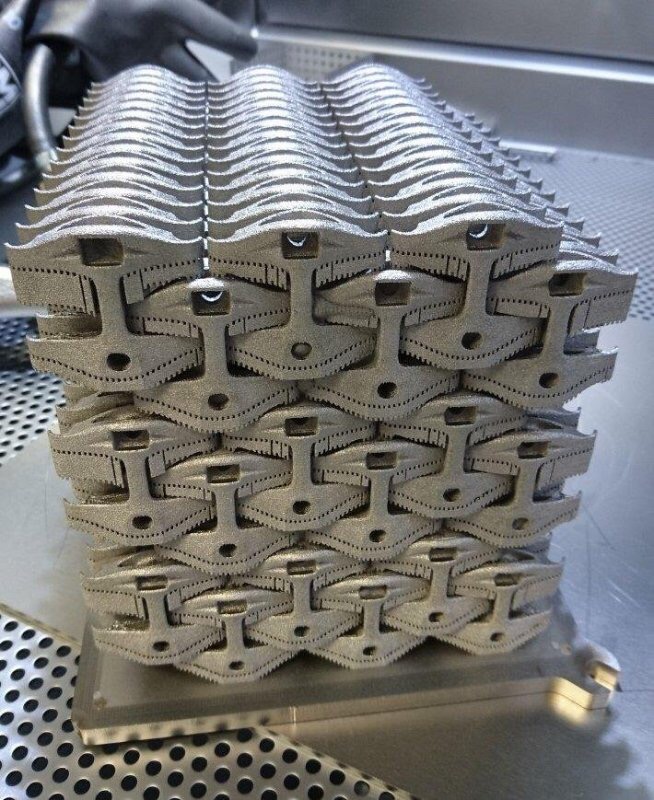 Ed Attenborough from Nottingham-based Attenborough Dental also talked about how 3D technology helped to turn around the struggling 100-year old local SME. He applied the technology he learned working in the defence industry to producing dental implants and surgical guides. Attenborough Dental now has 260 satellite offices in the UK and AM is embedded in its workflow, helping to drive its commercial success.
As one of the 18 remaining manufacturing companies on the FTSE 100, Johnson Matthey has integrated AM into its business by extending its core competency in powder coating and materials to include printing ceramic components. Samantha O'Callaghan addressed how the 200-year-old business has developed an integrated supply chain, enabling them to produce their materials in-house from start to finish, including using bespoke machinery to smooth over the challenges of AM production en masse. Johnson Matthey is using AM to manufacturing at scale, producing tonnes of materials per year. "You can bridge the 'valley of death', she said. We're doing it!"
Patrizia Richner from Sonova Hearing Care closed out the conference with her presentation on how the mass customisation properties of 3DP have revolutionised hearing aid manufacturing over the past 10 years. Their most recent innovation is printing smaller, more robust in-ear hearing aids from Titanium, which allow discretion and a custom fit for even those with profound hearing loss.
Education and upskilling
Businesses continue to experiment and develop using AM technology, but education and training are key for the technology to flourish and its uses to be pushed even further beyond current boundaries. David Bracket of the Manufacturing Technology Centre (MTC) challenged that AM technology should not just be the reserve of PhDs – all skill levels are needed for it to succeed. Samantha O'Callaghan referred to this in her presentation, as well – none of their new hires have AM experience, but they are trained on the job, developing the skills required of them.
Tim Minshall of the Institute for Manufacturing echoed this sentiment in his call to action on day three, stating that a lack of skills is holding back the AM sector. He called on more of the private sector - as well as government - to help step up education. Tim also warned that the AM industry needs to remember that it is 'just another process'. In other words, organisations need to train up their teams on how to use AM, just as they would for injection moulding, CNC milling and other manufacturing processes. AM education is by no means an unsurmountable obstacle – it's an issue faced by a number of evolving industries – but it is an essential one to tackle in order for AM to become more widespread.
Standards and certification
Any industry that sells into the medical and aerospace sectors knows that regulations and certifications are essential – and AM is no exception to this. Phil Reeves of Stratasys offered one solution in his presentation on the Industrial Realities Day: application-specific machines. Phil proposed that by locking down AM processes, specialist machines can be certified for building aerospace parts. He admitted that designing these certified machines and processes is most definitely a 'long game', but a worthwhile investment for those looking to work with highly regulated sectors.
Paul Holt of Photocentric Ltd addressed topics the industry rarely speaks about during their presentations on the Industrial Realities day: contamination and post-production. He argued that pushing the boundaries of laser powder bed machines can lead to problems with powder contamination, which can hinder certification. As for post-production, AM has long since hidden the post-production process behind the scenes and called for parts to be designed to simplify this process. "Account for how you will hold part for machining while you're designing your part."
Oak Ridge National Laboratories' William Peter highlighted the need for using data visualisation and analytical frameworks to facilitate the certification process, providing a voxel by voxel 'GPS system' for AM parts. Airbus' John Meyer acknowledge that certification and quality is 'hard graft'. He challenged manufacturers to ask "not just 'can we make it', but also 'what is the impact of the design on material properties?', noting that a 'big stumbling block' with AM is quality assurance. "We need to understand what we can prove can work," he said.
AM as part of a wider manufacturing ecosystem
It is safe to say that the speakers across all three days of the conference accepted that 'it is a truth universally acknowledged' that AM does not exist in a vacuum, but as part of a wider manufacturing 'eco-system'. This 'post-hype' admission is serving AM well – allowing companies to use it cost effectively without limiting the possibilities for innovation.
Whether it's creating jigs, fixtures and tooling for defence systems at Leonardo, eliminating material waste and restoring parts of Elvis Presley's BMW 507, ink jet printing metals using XJET or driving design-led thinking and capturing geometric complexities for consumer products at Betatype, AM has an important role to play in manufacturing – but not an exclusive one. Brent Stucker of 3D SIM noted that simulation software can "really improve things for AM" by helping to decrease build failure rates. Accurate visualisation testing of AM can also help solve the education shortage – it can show designers and manufacturers first-hand how the AM part will look, where its weaknesses will be and, ultimately, if it is the right technology for any given task.
Innovation and the Future of AM
The acceptance that AM is one piece of the manufacturing jigsaw is fuelling innovation –Maxim Shusteff of Lawrence Livermore National Laboratory spoke about tomographic volumetric 3D fabrication. It's early days, but the 'all at once' printing process may eliminate the size restrictions of AM, making it easier to create larger, stronger parts.
As part of his discussion of AM on earth, on orbit and on planet, Johannes Gumpinger of the European Space Agency talked about the preliminary earth-bound testing the ESA is already conducting AM in zero atmosphere using 'moon dust' that will one day allow astronauts to build shelters on the moon to enable further research.
These developments were only a few in early phases presented at the conference - and only one aspect of what will be much wider, more complex processes. They illustrate that in spite of the ongoing challenges AM faces, that there is more to be learned and while it will never be the panacea for all things manufacturing, it doesn't need to be – as a powerful solution in the toolbox, advances in AM will only serve to help enrich the possibilities for designers, engineers and manufacturers.