When Iceland's Mount Eyjafjallajökull spewed plumes of volcanic ash over Europe in April, the civil aviation industry went into meltdown.
Planes were grounded, thousands were stranded and engineers were left scratching their heads.
'The problem is that everything in this industry moves slowly,' said Charles Champion, Airbus's new engineering chief and the group's latest executive appointment. 'In civil aviation you carry passengers and so if you're confronted with the minimum level of knowledge, you have to be conservative.'
According to Champion, the emphasis on safety is one of the biggest challenges in driving forward change in the industry. 'We're often limited in what we can do. We need to meet customer requirements as well as have a strong business case and consider things such as safety standards… It's a tough juggling act.'
In civil aviation you carry passengers and so if you're confronted with the minimum level of knowledge, you have to be conservative
Despite only being in his new role for two months, Champion appears to have a clear vision for balancing these demands. And he is better placed than most to do this – after working 30 years at the company, he has been given some tough assignments, spearheading projects such as the single-aisle programme and the A380.
His latest role, however, looks to be one of the most demanding yet. With government ramping up efforts to reduce civil aviation's carbon footprint and controversy still surrounding its lack of readiness for a crisis, it seems the industry has some major challenges ahead of it.
'From my point of view, the biggest task is getting the right balance of people in the engineering community,' said Champion. 'There are those you work with, who are very competent people, but some tend to re-use the old ideas that they're familiar with.'
One of the first things Champion plans to do in his new position is cast Airbus's net further afield by establishing partnerships with universities outside of Europe and the US. 'I really believe this will help take a step away from the traditional "old boys" type approach… We have a global footprint and getting engineers from countries such as India, China and Russia will help.'
Engineers you work with are very competent people, but some tend to re-use the old ideas that they're familiar with
As well as looking to different countries, Champion claims that better collaboration with associated industries will prove increasingly valuable in the coming years. A classic example is the IT industry, which has moved ahead considerably in the way people interact with technology while civil aviation, with its long lead cycles, has struggled to keep up with the innovations.
'In this climate, everything related to the cabin needs to move fast,' said Champion. 'The generation that is going to fly now is the generation that is used to SMS and to Facebook – if you put them for nine hours at a time in a piece of carbon or metal and the only thing they can do is watch movies on the screen, then I don't think that's going to be enough.'
Airbus's flagship plane, the A380, has attempted to address these concerns and is the group's biggest jump in innovation. The double-decker super jumbo is the world's largest passenger aircraft and could, according to Champion, significantly change the way people view air travel.
'In terms of innovation, I would say the A380 is somewhere between the A320 and the Concorde,' said Champion. 'People are specifically requesting to travel on the plane when they book their flights. It's a big step because of the new systems on board and the size of the aircraft… this type of travel is, I believe, the way forward.'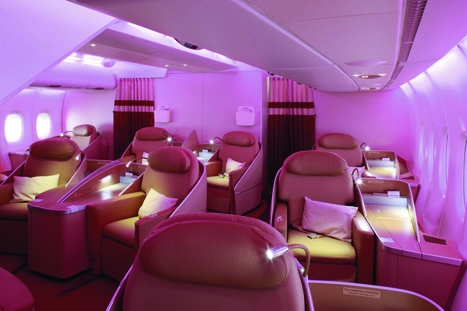 The A380 is currently at the limit of aircraft size because of airport operating constraints, but Champion doesn't dismiss the idea of even larger aircraft in the future. 'You've got the concept of the V-shaped blended wing, which goes back to the 1950s. Back then, the shape would not have been very stable, but today, with flying controls, we can make it stable.'
His enthusiasm for new concepts, however, is tempered by a sense of pragmatism drawn from years of experience. Champion explained: 'There are lots of exciting concepts for aircraft shape… but as I said, this is a conservative industry. An important question is customer acceptability – I mean, would you sit here in the middle of a cabin with no outside view or anything, maybe with 20 seats across?'
Conservative or not, innovation is something that is likely to dominate the agenda in civil aviation as it addresses changing customer needs. Drawing from a pool of global talent, Champion is confident the industry will be able to take the lead in tackling the challenges ahead.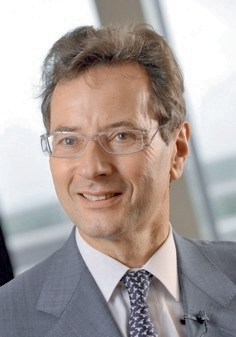 Charles Champion biography
Executive vice-president engineering at Airbus
Education
Graduated from the École Nationale Supérieure de l'Aéronautique et de l'Espace in Toulouse, France, in 1978, and holds a Master of Science degree from Stanford University, California.
Career
1980 Began professional career with Aérospatiale as an engineer in aerodynamics
1988 Given responsibility for Aérospatiale's single-aisle aircraft final assembly lines
1993 Promoted to director of Airbus Programmes
1995 Became managing director of the Future Large Aircraft military transport project
1997 Joined Airbus Industrie as vice-president of sales for eastern and southern Europe
1999 Made responsible for the Airbus Single-Aisle Programme
2000 Appointed head of the A380 Programme
2007 Executive vice-president of Airbus customer services
2010 Named executive vice-president of engineering at Airbus
Q&A
Addressing the aviation agenda
What is one of the most difficult things about working in civil aviation?
There aren't many industries in which the product you design and deliver 20 years later is still the one that is competing – that means you need to get the product right at the start and from that point of view it is much more difficult than other industries.
How do you think the volcanic ash situation could have been dealt with differently?
The problem was that the ash went directly over the UK and there were no criteria available to establish the safe level of flying. Another point is that we didn't really understand where the ash clouds were, which was one of our frustrations. We actually discussed a model with the Met Office guys, but you know if you're not careful you can demonstrate anything with a model. Work is now being done on better understanding these types of ashes. We also have to speak more with the engine guys to understand what the engine can sustain. The problem is that takes time, and of course when that type of event occurs you want to have answers within weeks, and in our industry that's not always possible.
In terms of addressing environmental concerns, do you believe the aviation industry has lagged behind others?
I think what is clear is that in our industry as a whole, including our customers, some of us have been active while others have been reactive. We probably thought that being in an industry that needs fuel gas in order to fly, we would not be at the centre of all the environmental issues, but Airbus understood a few years ago that this was the wrong approach.
What has Airbus been doing to address this?
First of all, we are always designing more efficient aircraft to fly with a minimum of fuel. We are also exploring the alternatives to fuel and trying to understand what type of generation of biofuel will be sustainable on a global scale.
We're also looking at how to do synthetic fuel. This goes back to studies in the 1930s and 1940s because we were lacking fuel. We need to look at what type of raw material we can use to get there and to determine whether it balances in terms of overall optimisation of the planet's resources.
What would you like to have achieved in your new role in five years' time?
Five years from now, I would like to know what the concept would be for single aisle in 2025. I would like to have implemented more affordable, innovative technologies and have a mid-long-term solution for fossil fuel, or at least a roadmap… but in our industry, five years really isn't much time at all.