We don't generally do obituaries in The Engineer, but an item in this week's newspapers caught our eye as a life worth celebrating. Ron Hickman, who died last week aged 78, almost certainly touched the lives of every reader — possibly every British family — in some way, but it's unlikely you've ever heard of him. Certainly none of us had.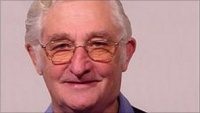 Hickman has been described as an inventor and car designer, but in fact the word engineer, in all of its derivations, fits him much better. The two achievements which mark him out for greatness are one of the quintessential 1960s sports cars, the Lotus Elan, and one of the only pieces of DIY equipment that might deserve the description 'iconic', the Black and Decker Workmate.
Growing up in South Africa in the 1930s and 40s, Hickman didn't train in engineering but he was obessed with cars. Although he spent his time learning to play the piano and, later, training in law, he also constantly sketched pictures of cars and whittled them out of wood. Completing his legal training in 1954, he still wanted to work in cars, so he borrowed £100 from his father, hopped on a boat to Britain, fetched up in Dagenham, and got a job as a clay modeller in Ford's styling department.
Soon after, Hickman met the founder of Lotus and a legendary engineer, Colin Chapman, and joined his new company as a production engineer and general manager, working on Chapman's first car, the Elite, and later on the Elan. The Elite had proved too complicated to build to be practical, and Hickman was instrumental with coming up with the idea of using commercial off-the-shelf parts — a Ford Classic engine block here, the steering rack from a Triumph Herald there — which made the Elan affordable to many, unlike most of today's sports cars. He also originated the car's ultra-stiff backbone chassis, the lightweight unimould glass-fibre body, and the cute pop-up headlights which made the car almost as sleek and eye-catching in The Avengers as its driver, Diana Rigg's catsuited Emma Peel.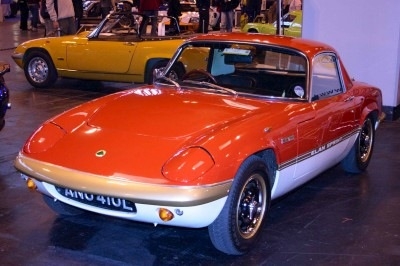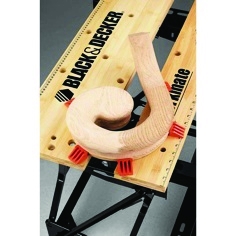 While working at Lotus, Hickman was also designing and building furniture, and it was an unfortunate mishap which led to the invention of the Workmate. Using whatever was around as a sawhorse while building a wardrobe, he ended up cutting the leg off a rather expensive Swedish chair. Determined not to damage any more of his household fittings, he came up with the combination sawhorse and vice on a foldable alloy frame, later signing an exclusive deal with Black and Decker which saw him receive a three per cent royalty on each unit sold: a deal which allowed him to build a house in Jersey and amass a large collection of gorgeous cars, including a Cadillac V16 that had belonged to a maharajah and, of course, a Lotus Elan.
For those of us growing up in the 1970s, the ads for the Workmate are as indelibly inscribed on our memories as Emma Peel and her car were for the 60s generation. In fact, I'm pretty sure I can remember the ads popping up in the commercial breaks in Avengers repeats. I had no idea that one man had been instrumental in both. Hickman's name deserves to be irrevocably linked with both of those achievements and, although his life was undoubtedly full and happy, it's a shame his name wasn't better known.