With more than 200 moving parts on a passenger car relying on lubricating greases or oils, they are an essential component for the automotive sector, with the primary functions being to reduce friction and wear between surfaces in contact. As manufacturers globally strive to minimise the environmental impact of their operations in line with wider net zero targets, the industry calls for "green" or recycled lubricants with added urgency.
By reducing friction – and therefore energy loss – the use of lubricants enhances a vehicle's performance and efficiency, while protecting the lubricated parts against wear and corrosion, extending a vehicle's service life. Applications of lubricants range from the pistons, cylinders, camshafts, and crank shafts of an internal combustion engine to the mechanics of the electric window regulator, the seat adjustment of a car and the side shafts.
The automotive industry is seeing a global increase in demand for lubricants, driven in part by a rise in vehicle ownership rates. In 2021, the National Lubricating Grease Institute (NLGI) reported the global market for lubricating greases to be 1.2 million tonnes, with a small car requiring up to 500 grams of grease, and a mid-size car around 800-1,000 grams in the side shafts alone.
For suppliers, this represents a considerable opportunity to optimise their CO2 footprint. At GKN Automotive, we are currently using more than ten different types of lubricating greases for a wide range of vehicle types and purposes. In order to fill our high demand for drive trains, this equates to around 10,000 tonnes of lubricating grease used over the space of a year.
Growing concerns around the environmental impact of mineral oil-based greases – and the scale of the industry's consumption – have led to an increasing number of calls for "green" or recycled lubricants. With stringent government regulations in place surrounding vehicle maintenance and operation, customers and manufacturers alike are increasingly seeking to move away from oil and towards renewable raw materials, while remaining competitive in the growing market.
With up to 80 per cent of the grease currently used to lubricate drive and side shafts consisting of mineral oil components, it is here that we see great potential for "green" lubricants. Whereas previously, GKN Automotive has been only a purchaser of lubricating oils and greases, we are now developing our own in-house greases. We are in the middle of the development process of more sustainable, plant-based lubricating greases, and in 2024, we want to start the evaluation phase of a first product.
Reducing the lithium content is an important step towards creating a "green" lubricant, since the production of one tonne of lithium hydroxide hydrate raw material emits approximately 10 tonnes of carbon dioxide – 10 times more than the production of alternative metal hydroxides. Castor and rapeseed oil, for example, are proving to be promising alternatives to mineral oils, with the greatest challenge in the development of plant-based lubricants being temperature and oxidation stability, as well as water resistance.
"Green" lubricating greases used in vehicles have to meet the same high requirements as mineral oil greases. Driveshaft applications are especially demanding, since the grease is exposed to extreme pressure loads, must withstand temperatures ranging from -40°C to +150°C, are required to maintain their lubricity for years of service life, and also serve as heat dissipators. This, in turn, means that particular attention must be paid to the exact composition of lubricating greases and their additives.
Increasing momentum in the rollout of battery electric vehicles (BEVs) is a well recognised accelerator of the development and production of lubricating greases for drive shafts. A vehicle's drive type, weight and engine performance all determine the type of greases required in a drive shaft – the higher the vehicle weight, the acceleration values, and torques, the more complex the requirements for the grease.
To ensure the optimum performance for BEVs, which are currently designed to be very powerful, lubricating greases must be adapted according to these differing requirements when compared to traditional internal combustion engine vehicles. It is essential that these adjustments continue to minimise friction, enhancing a BEVs service life and range. These adjustments are an even greater challenge when employing sustainable, plant-based raw materials, since they naturally have certain weaknesses compared to mineral oil products.
With increasing demands from car manufacturers to find more environmentally sustainable material options while also enhancing the vehicle's service life and efficiency, our ambition is to work with industry to overcome the performance difference between mineral oil and plant-based lubricants, enabling greater application of "green" lubricants. In the long term, we aim to replace around 50 per cent of our lubricant consumption with more sustainable products.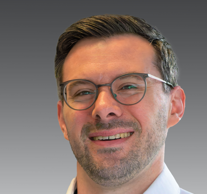 Dr Christoph Lindlahr is Product Development Manager at GKN Automotive