When we talk of collaboration as the engine of innovation, all-too-often the focus is on R&D, but there is equally as big a challenge in driving inefficiency and waste out of our manufacturing processes. In fact, estimates suggest that between five per cent and thirty per cent of UK GDP is wasted due to inefficient working practices and correcting mistakes.
Nowhere is the automation gap starker than in the relatively simple automation technique of machine tending
An increased focus on automation could be one answer to the productivity problem. Take robotics for example. The UK has been unquestionably slow on the uptake, with just 71 robots per 10,000 manufacturing employees. In comparison, South Korea has almost 500, and Japan 300. Nowhere is this automation gap starker than in the relatively simple automation technique of machine tending, in other words the loading and unloading of a machine tool to allow lights out and unmanned running.
At Yamazaki Mazak we have prioritised joint initiatives with other industry leaders to share expertise and disciplines and in turn develop innovative applications. For example, our recent project with FANUC saw our QUICK TURN 250MY + TA-12 fitted with RoboJob robot. The combination of the high performance turning centre with an integrated FANUC RoboJob robot offers a 'plug and play' solution, designed to appeal to customers requiring a single source supplier for both machine tool and automation. The machine is also ideal for applications requiring lights-out unmanned running overnight or at weekends, enabling machine operators to do what they do best, namely programming rather than manual loading and unloading of workpieces.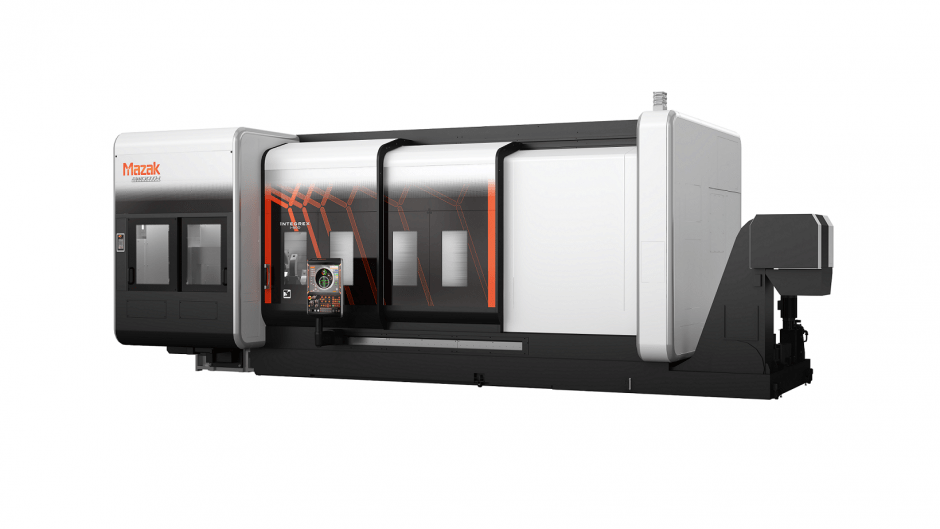 Now, thanks to the Mazak SmoothG CNC, machine tool users have the ability to control both the machine tool and the robot via the same platform. This collective control accelerates set up and removes a previous barrier which plagued productivity and hindered lead times with engineers having to programme the robot and machine separately using different systems.
In an increasingly competitive world, greater connectivity, in terms of improved transparency of production data, faster cycle times, less downtime and lower indirect labour expense, will revolutionise manufacturing.
Centred on two core pillars, SMOOTH Technology and the Mazak iSMART Factory™ concept, our Industry 4.0 solution aims to improve productivity on the factory floor, and has been implemented into our own facilities throughout the world. In particular, our API (Application Programming Interface) enables non-Mazak software, to run on the SMOOTH CNC. This collaborative approach means that an operator in a Mazak iSMART factory can easily monitor all machines in the production process through the SMOOTH interactive touch-screen control panel, regardless of the machines manufacturing origin.
In an increasingly competitive world, greater connectivity will revolutionise manufacturing
To enhance this connectivity between machines, we also introduced the Mazak SMARTBOX, an innovation born out of our work with Cisco. The SMARTBOX provides advanced cyber-security protection to give production directors and IT departments the confidence to digitally integrate their manufacturing operations. The SMARTBOX also uses the MTConnect protocol for data collection which aims to drive a common open protocol for machine communications, making possible the seamless transfer of manufacturing data from the factory floor to the office.
An innovation philosophy must also embrace a direct collaboration with the customer base. For this reason, we set up the European Product Group, which consists of a team of product experts who not only analyse the market, but also visit customers on site to listen and find out what they need from their machines. This feedback is then directly reported into our machine R&D function, meaning we can work together to tackle the issues they face, and respond to their needs when developing new solutions.
Thanks to this customer collaboration ethos, we have seen the development of a number of machine tools, including the VARIAXIS i-300 AWC. This machine was developed specifically for customers in the aerospace, medical and autosport sectors, following feedback around the need for enhanced productivity of smaller prismatic components.
In Europe, we know there is great demand for multi-tasking work on larger workpieces and, to meet this, we have developed the INTEGREX i-500, which has a large machining envelope and increased X- and Y-axis capacity.
We are also developing machines to meet the demands of European customers in specific sectors. The HCR-5000S is a 5-axis horizontal machining centre equipped with a 500kg load capacity pallet. The machine has been developed for high-speed aluminium cutting applications, such as aerospace components.
READ ABOUT MAZAK'S MACH PRESENCE HERE
However, the final factor to consider when looking at collaboration is education. We can collaborate with manufacturers, we can connect our machines, and we can directly respond to customer's needs, but if we are to provide for the future of the industry there must also be a collaboration between industry and academia.
This is where our work with universities, schools and training associations such as the Rolls Royce training academy is so important for developing the future workforce. Over the years, we have seen the fruition of this collaboration, and one key example is the success of the University of Birmingham racing team, who we have worked with over a number of years.
Mazak has supported UB Racing in both a design consultancy role and as an engineering resource, specifically through the use of a number of machine tools at its European Technology Centre, in Worcester. In particular, this year saw the team coming second in the 2017 Formula Student UK competition – the best performance in the team's 20-year history – beating a host of UK and international rivals from the 75-strong field. We have also even seen previous students go on to join world-class formula one teams, which is proof that collaboration at this early stage is vital to equip the engineers of the future.
Yamazaki Mazak is exhibiting here: H20-760,H20-790,H17-367c