The UK construction industry is struggling with thousands of businesses at risk of closure. Material prices are soaring and the outlook for 2023 is still bleak. We cannot go on like this.
Construction needs a hero, and cutting-edge technology is offering new, leaner building methods in an increasingly connected digital ecosystem. Tools like Augmented Reality (AR), advanced Computer Vision (CV) and evolving 3D modelling techniques are supercharging the way we build today, offering more efficiency, greater accuracy, enhanced productivity and boosted profit margins.
The Internet of Things (IoT) has propelled digital technologies to new heights, helping teams streamline project workflows and collaborate on a global scale. Meanwhile, smart devices in the field are providing valuable data to inform more efficient construction methods.  
Leaders across the industry must capitalise on the growing pool of technological innovations at their disposal to survive the raging storm around them.
From bricks to clicks
In an increasingly digital world, construction is beginning to catch up. The integration of Building Information Modelling (BIM) into operation workflows has opened the doorway to a new era of construction where technological innovations are becoming the norm, opposed to the exception.
More recently, the advent of dynamic digital twin technology has provided a further catalyst to BIM adoption. Thanks to improved AI-enhanced smart sensors, virtual models can now learn from real-world sources and automatically update to reflect adjustments, keeping project managers informed of changes in real time. Furthermore, the introduction of high-performance RBG and infrared cameras, 3D scanning and telematics are supporting better-informed scheduling, analytics, simulations and more, providing greater transparency for engineers on the ground and stakeholders in the office.
Building on the capabilities of Artificial Intelligence (AI), computer vision is improving construction protocol by automating tasks like quality control and process optimisation. Similarly, Augmented Reality (AR) is allowing engineers to carry out precise inspections and build more accurately, to millimetre precision in some cases with the latest engineering-grade AR. We can attest to this, reporting productivity boosts of 40 per cent on projects we have implemented AR on.
Taking a load off
Robotics is another budding space that is helping to ease the burden on construction workers and boost productivity. Programmable robots are being designed to carry out repetitive tasks, revolutionising building techniques and improving occupational safety.
As construction becomes more automated, various applications are emerging for robotics, both on and off-site, such as self-navigating autonomous robots, helping to alleviate pressure from labour shortages and increase efficiency, ultimately reducing costs in the long-run when manpower is limited.
Rewiring to reduce rework
Technological innovations are helping to improve construction project management by eliminating the need for reactive, energy-intensive, costly rework. Conventional monitoring methods, such as laser scanning, require bodies on the ground and can be time-consuming.  As a result, data can often take days, weeks or even months to produce results, at which point information is outdated and inaccurate.
Thanks to emerging automated techniques to collect and analyse data, field engineers are better equipped to identify and tackle issues in the moment.
In the same breath, digital twins' synchronisation with real-world assets also gives different teams greater visibility throughout projects. This information superhighway between the office and site allows stakeholders to experiment digitally and analyse outcomes to prevent errors and inform amendments to works, saving on costly errors. Advances in AR, CV and robotics are all helping to improve monitoring capabilities and boost the synergy between BIM, which uses digital twins, and fieldwork, ultimately building communication bridges between teams working at a distance.
The building information web
The power to digitise information and access it at the press of a button is having a positive, transformative effect on contemporary construction. Computerised information is more accurate, more easily shared, and can be stored safely in data clouds.
The digitalisation of construction has generated valuable big data and sewn information threads between different teams collaborating on projects where information is continuously being collected and analysed in real-time with the support of AI. This transparency helps to deliver high-quality builds with greater accuracy and lower risks by eliminating errors.
Supported by the growth of cloud management platforms and improved data analytics software, the growing pool of available data, like material and energy costs, is also helping to identify black holes in project cost analysis.  
A light at the end of the tunnel
Leaders in construction must take a leap of faith and adopt the vast array of budding technologies at the industry's disposal to lead the way in tomorrow's futuristic world. McKinsey has found that construction technology investment has already doubled from 2009 to 2019. Meanwhile, top contractors like Mace and PM Group have already invested in solutions like Engineering-Grade AR and are reaping the benefits, reporting 9X ROI in some instances.
The world around us is changing, and those willing to invest in evolving construction technology will inherit the earth, while those who deny its relevance will be left behind. We are all on the clock as the challenges we face grow. Now we must rise to the challenge before it's too late.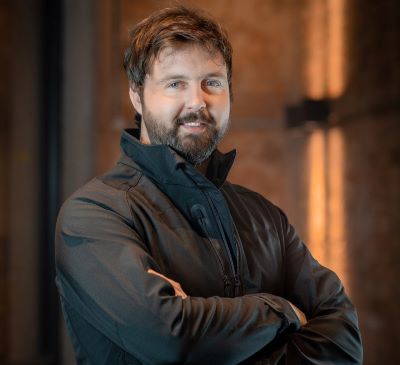 David Mitchell, founder & CEO, XYZ Reality