Industrial electric motor-driven systems are crucial in countless industries. Today there are more than 300 million worldwide in applications from powering manufacturing to infrastructure services and transportation. But most are operationally inefficient – and this has an impact on business costs, and the planet. According to the International Energy Agency (IEA), optimising and replacing these systems with high-efficiency ones would see global electricity consumption reduced by 10  per cent.
Investing in energy efficiency is a move companies should make. And according to an ABB survey, 97  per cent of global industrial businesses are willing to do so. The stumbling block? Only 41  per cent of business decision-makers currently feel they have the necessary information to act.
So what should businesses do?
Do a check-up of your operations with an energy efficiency audit
Many facilities have hundreds of motors and drives, making it hard to pinpoint exactly where to find more energy efficiency. The first step should be to connect the equipment and run a digital audit the efficiency of motor-driven systems. This will give businesses essential data to identify the greatest potential for efficiency upgrades. That could involve resizing and modernising equipment or integrating variable speed drives (VSDs), as an example.
The benefit of a digital energy efficiency audit is that it lays out the energy savings, CO2 emission reductions and return on investment (ROI) that can be achieved. For example, the payback from installing a more efficient motor and drive system can often be achieved within months.
This was true for Tarkett, the Swedish flooring manufacturer, which saved 800 megawatt-hours (MWh) per year by acting on the recommendations of a digital energy efficiency audit. That's about the same as charging every German's phone – 68 million smartphones. By upgrading 10 motors to the latest ultra-premium equipment, energy efficiency increased from 80 to 95  per cent. When factoring in the cost of energy in Sweden at the time, a payback period of 18 months or less was predicted.
Act on facts: use digitalization to drive improvement
Another benefit of digitally connecting equipment is that it enables operators to remotely monitor and optimise the health, energy efficiency and performance of their assets. Through condition monitoring, small fluctuations in performance (such as noise and vibration) alert operators so that issues can be fixed before they become big problems. In this way, digitalisation optimises energy efficiency and boosts reliability.  
MORE FROM ENERGY & ENVIRONMENT
Increasing reliability is an important way for businesses to cut costs as it avoids expensive unplanned downtime. A new ABB survey published in October 2023 of over 3000 industrial plant managers found that 69  per cent of businesses experiences an unplanned outage at least once a month that typically costs them $125,000 per hour.
Any investment that promotes uptime is one that saves costs, but also emissions. For example, one sugar processing plant in Belgium wanted to track the condition and performance of its critical dryers and fans. After digitally connecting the equipment, operators spotted that one fan motor was vibrating more than expected. Rapid scheduled maintenance boosted its uptime, but also increased its efficiency by 12  per cent, leading to annual energy savings of €4,000.
Focus on core business and let your partner look after the rest
Industry today is looking to take maintenance to the next level. One opportunity is shifting towards outcome-based service models, where service partners are paid based on achieved outcomes. With this model, businesses and service partners share the same objective, like energy savings or uptime. It's a win-win for both. In the recent survey, nine in ten plant maintenance decision-makers said they would be interested in an outcome-based maintenance agreement, which can provide more certainty over uptime and resulting cashflow.
Statkraft – Europe's largest generator of renewable energy – is taking this outcome-based approach with a 40-tonne flywheel that has been recently deployed at its Lister Drive Greener Grid Park in Liverpool, England. The site is critical for stabilising the grid to accommodate an increasing amount of renewable energy.
To ensure the system runs 24/7, Statkraft signed a 10-year, outcome-based maintenance agreement. This covers both planned and quick response services, as well as condition-monitoring solutions that accurately track the health and performance of equipment. Remote operators are then alerted to any subtle changes and can schedule maintenance to ensure constant uptime.
Be at the forefront of a low-carbon future
There's no doubt that efficiencies can be made where motors and drives are used, and industrial operators have the power to reduce electricity consumption significantly and drive down carbon emissions. This is especially true as, according to an ABB study, 96  per cent of business leaders agreed that digitalisation boosts business performance. However, only 35  per cent are actively implementing digital solutions at scale. The will is there among business leaders – it's just a question of taking action.
Firstly, we need to raise awareness about what is possible – because businesses can only act when they know how to deliver a low-carbon future. By then embracing digitalisation and introducing outcome-based thinking, industrial businesses will be able to better see the opportunities for cost savings and emissions reduction.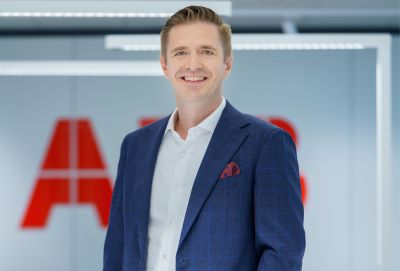 Erich Labuda, president of Motion Services at ABB