There is an irony that engineers are publicly perceived to be men in high-visibility vests, when in reality the vast majority of them are out of sight from the wider public.
Public-engagement activities tend to be dominated by scientists, helped in part by the actions of influential funders such as research councils and the Wellcome Trust, which have encouraged, cajoled, poked and prodded their researchers into entering the public arena.
There needs to be a good deal of cajoling and prodding in the engineering sector to encourage more engineers, including those in the private sector, to be a visible part of public life. What is needed is more volume – more talk, debate and discussion within the sector about why engineers should engage with the public.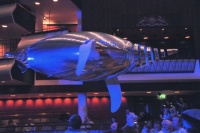 The reasons for 'why engage?' are as diverse as the projects funded by the latest round of Ingenious, the Royal Academy of Engineering's grant scheme that aims to help engineers gain the confidence and communication skills to engage the public. The scheme has recently announced its awards for 2010 – 16 creative projects that will give more than 380 engineers the opportunity to reach out to thousands of young people and adults.
Successful projects include Cambridge University's new Naked Engineering radio show and an engineering debate series run by the Science Museum. Another project, to be developed by Redbird Media, will raise debate between engineers and young people on engineering, disability, discrimination and accessibility.
'I want people to know that I didn't spend three years at university learning how to fix cars' was one engineer's response to why she wanted to take part in an Ingenious project. People can meet the gas engineer at home and the photocopier engineer at work, but the rich diversity of, dare I say it, 'real' engineers and the projects they are involved in will remain hidden until that same diversity of engineers becomes proactive in engaging with the public.
Recruitment is a highly important issue for engineering and a frequently quoted reason for engaging the wider public. It is crucial that a good proportion of the next generation of bright, scientifically minded people consider engineering as a fruitful and valuable career. But public engagement should be about reaching out to all, irrespective of potential career choice, age or gender.
The Tate Modern does not do what it does to recruit future modern artists. Engineering also needs to realise that its outputs, outcomes and processes are culturally important and interesting in their own right to the wider public. By engaging with young non-potential engineers, we will reach those who will become leaders and decision makers in other walks of life, such as in the government or media. These people should know what engineering is – its contribution, its diversity, its potential.
In addition to changing perceptions and generating enthusiasm for engineering, a case could also be made that engineers have a duty to engage the public. Given that engineers have a fundamental role in shaping the future, surely the public should be able to debate and be listened to by engineers, before the future has been shaped?
Last but not least, it may appear that public engagement only has an impact on the public. However, learning to engage a non-specialist audience can be a valued and enjoyable experience that develops engineers' communication, presentation and listening skills. These are all requirements for achieving Chartered Engineer status. So it's official – public engagement is good for engineers' professional health!
Dr Lesley Paterson
Head of public engagement
The Royal Academy of Engineering
Education
1993 BSc Marine Biology, University of Liverpool
1999 PhD Marine Biology, University of St Andrews
2002 Masters in Science Communication, Birkbeck College London
Career highlights
2002 Edinburgh University schools outreach programme, presenter of 'Sci Fun' Roadshow; Roslin Institute, 'scientific secretary' to Dolly the cloned sheep
2002-2006 Wellcome Trust, project manager for public engagement
2006-onwards Head of public engagement, Royal Academy of Engineering, including running Ingeniuos grants programme to develop engineers'communication skills, create debate between engineers and the public, and to raise awareness of the diversity and impact of engineering