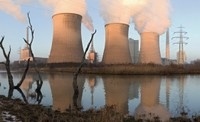 This week, 192 nations of the world will converge on Copenhagen for a meeting (COP15) that has been billed as the 11th-hour opportunity to agree a replacement to the Kyoto Protocol and avert climate change. Sadly, the current outlook for a forward-thinking, binding and effective global agreement is not looking good.
Climate change is one of the biggest challenges facing our globalised and interdependent society but, despite continuous calls from scientists for decisive action, the world continues to pollute the air with greenhouse gases. Indeed, the atmospheric CO2 concentration has risen relentlessly in recent decades and between 2000 and 2008 emissions increased by a staggering 29 per cent.
The UK government has attempted to address emissions reduction by setting a target to reduce CO2 emissions to 80 per cent below 1990 levels by 2050. Furthermore, it has created an intermediate target of a 34 per cent reduction by 2020 and embodied these objectives in the 2008 Climate Change Act -a laudable world first.
However, to meet these targets, the UK will need to undertake a monumental decarbonisation task at a scale never seen before. In our most recent report -'Climate Change: Have we lost the battle?' -the Institution of Mechanical Engineers (IMechE) showed that the UK would need to reduce carbon output by more than five per cent per annum until 2050. Between 2001 and 2006, we achieved an average of 1.3 per cent annual reduction and a recent progress report from the Committee on Climate Change found decarbonisation of the UK economy to be 'very limited'.
Engineers are at the core of society's response to climate change and IMechE has shown leadership throughout the year in communicating the profession's commitment to offering solutions and radical, but practical, approaches. A key component of our campaign in the run-up to the talks has been to illustrate to government, policymakers and the public the scale of the decarbonisation task and the need for a wider suite of solutions to include long-term adaptation and the temporary deployment of more practical geo-engineering techniques, alongside mitigation.
"Engineers are at the core of society's response to climate change"
The institution's work on the decarbonisation challenge showed that, even with a dramatically reduced energy demand level, the scale of the engineering task required is still without historical precedence. Although the institution found that achieving the 80 per cent target is theoretically feasible using known technologies, the magnitude of the task will need the large-scale commitment of human and material resources not seen since the Cold War. The evidence of decarbonisation to date suggests that, without a step-change in public and political will, the target will not be reached until 2100.
Engineers work within the context of our wider global society and the delivery of our solutions requires legislative, commercial or strong cultural drivers, or combinations of these, for action. In recognition of the size of the global political and cultural challenge, the institution has called upon government to take stronger measures and develop a more integrated approach. In this respect, we have proposed a holistic policy in which mitigation, adaptation and geo-engineering are pulled together in a national strategic plan. We call this a MAG approach.
Such a plan would require an engineering project management approach to tackling climate change, encompassing a step increase in decarbonisation with realistic, achievable and integrated goals set, adaptation to the long-term effects of past emissions and emissions in future years and the research, development and potential deployment of practical geo-engineering solutions, such as artificial trees and biochar-based systems.
Engineers are committed to solving society's challenging problems but, in return, society must create the culture in which success can be achieved. Decarbonisation is such a challenge. The IMechE looks to the world's politicians to show leadership in Copenhagen and put in place the policies and frameworks needed to correct market failures, engender behavioural change and plan for a world secure against climate change through MAG.
Tim Fox
Head of Energy and Environment, Institution of Mechanical Engineers
Education
BEng Civil Engineering PhD Fluid Mechanics
Career
1987-1992 Post-doctoral appointments at Southampton University and Queensland University
1992-2001 Extensive work as a fluid mechanics specialist at AEA Technology, Hyprotech and Qinetiq
2001-2005 Commercial Director of finite-element analysis specialist TNO Diana BV and Managing Director of UK subsidiary Femsys
2005-present Head of Energy and Environment at the Institution of Mechanical Engineers. This role involves developing and communicating the institution's policies on energy and environment issues, lead-authoring thought-leadership reports and providing input to government policymaking