Shakespeare understood - for various reasons - that comic relief was an essential element of his work and in mid-February an unexpected source provided a belly-laugh during TV coverage of the flooding.
Appalling weather in December 2013 ensured that hundreds of people had a dreadful Christmas break and by the new year flood waters were making life in the Thames Valley equally difficult, prompting 24-hour news teams to devote their energies entirely to the threat.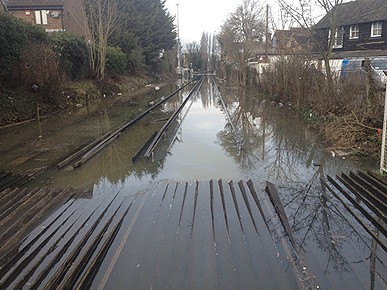 By mid-February the Royal Princes were found trying to do their bit in the Berkshire village of Datchet, with Prince William suggesting to journalists that they stop reporting and do their bit to help in the relief effort.
As many of you will have seen, this was recorded by a TV camera crew, plunging this writer's household into a guilty chuckle before being brought back down to Earth by the immediate and urgent problems raised by the flooding and those that await when it has abated.
Relief efforts go up a gear today with members of the armed forces being trained by the Environment Agency over the next week to act as flood defence assessors.
Over 3,000 service personnel have so far helped in efforts to alleviate the flooding countrywide and over 200 more will act on behalf the Environment Agency to support the assessment of around 150,000 flood defences.
According to the MoD, the assessment is expected to take six weeks with military personnel working independently and alongside Environment Agency flood defence inspectors to fulfil their remit.
More flood related events take place in Parliament this week, with Patrick McLoughlin, the secretary of state for transport, giving oral evidence on rail flooding, and MPs debating flooding in the South West amid calls for railway flood-resilience funding.
McLoughlin will be asked by a Commons Select Committee about what government can do to restore rail links to south west England, following the collapse of the sea wall at Dawlish.
The committee will also ask questions about how flooding is affecting other parts of the rail network and whether better infrastructure planning could have prevented the current situation.
Last Wednesday Network Rail said it would be mid-April before repairs at Dawlish are complete, with severe weather having hampered efforts to date.
Flooding is high on the agenda this week with the Royal Academy of Engineering convening for a lecture and discussion about how England can protect itself from such events.
The lecture at Lessons learned in managing the winter floods - the engineering response will be delivered David Rooke MBE FREng, executive director of Flood and Coastal Risk Management, Environment Agency.
RAEng's Dr Giorgio De Faveri told The Engineer that Rooke will 'cover the engineering aspects integrated into the Environment Agency's current flood response infrastructure and how they plan to address future floods.'
The lecture will be followed by  Q&A and discussion chaired by Jim Hall, Professor of Climate and Environmental Risks and director of the Environmental Change Institute, Oxford University.
From one very real disaster to a simulated series of events that aim to provide more understanding about how pedestrians move through public spaces, specifically rail or underground stations.
There won't be too many readers who've yet to suffer the discomfort of a sudden, ominous surge on a busy railway platform, or been stuck in a railway station's stairway or corridor as passengers file slowly to and from ticket barriers.
With this in mind, Greenwich University's Fire Safety Engineering Group is looking for volunteers to take part in the two day simulation, with one outcome being the improved design of stations and their surrounding environments. Collected data will also contribute to improving computer simulation tools used to simulate evacuation.
The university is currently tight-lipped on the exact nature of the experiments but they do say: 'participants will not be expected to do anything that they would not normally do in exiting a typical London Underground station.'
The research will take place on Saturday 29 and Sunday 30 March and volunteers, who can take part in one or more days, will be required to attend between 8am and 5pm. Those taking part will be be given £45 each per day to contribute to travel and incidental costs.
Full details can be found here.
Finally, SMEs are urged to attend Finance for Growth in Coventry this Thursday, to learn about funding available for manufacturers to support research and development.
Manufacturing SMEs will be able to book one to one meetings with the Business Growth Fund, Eisvogel Capital, Business Innovation Fund, Green Bridge Supply Chain programme, R&D Tax Credits, TSB SMART Grants, Foreign Exchange and CASiM2 & MTC to gain individual advice. 
More info can be found here.