As CEO of the UK's innovation agency, I'm privileged to be able to see, first hand, some of the most striking examples of engineering innovation, developed by companies of all sizes. Perhaps less obvious, but at least as striking is the evolution and reinvention of regions which had very particular former industrial heritages. On a two-day visit to Northern Ireland recently, the transformative effect of business and government working together to create an 'innovation-friendly' environment was laid bare, as I saw example after example of world class facilities and innovation.
It was a particular privilege to meet Arlene Foster, Minister for Trade and Investment at the Northern Ireland Assembly. I was tremendously encouraged by her commitment to ensuring that the high tech engineering element of the region's innovation renaissance continues. Companies in the region secured over £9.3m in funding from us in 2012/13 and the Minister shared my commitment to ensuring that ever more Northern Irish companies take even greater advantage of our wider roster of targeted funding programmes – similar to the way that partnerships of businesses and universities in the region have successfully taken advantage of Knowledge Transfer Partnerships, as I've discussed previously in these pages.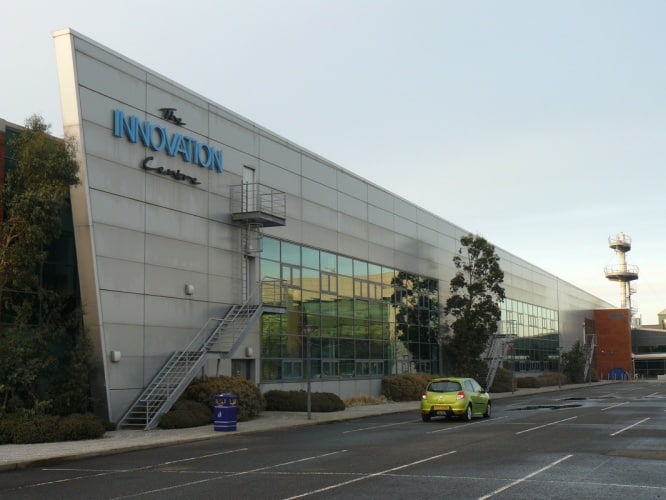 Composite engineering
Although Northern Ireland is increasingly proving to be a fertile landscape for engineering innovation as a whole, composite engineering is undoubtedly one of the jewels in the region's crown. I had an all too brief tour of the Northern Ireland Advanced Composites Centre (NIACE) centre during my time in the region and the transformation in the facility from my initial visit – not long after it opened, was striking. Boasting some of the most advanced composite engineering facilities in the world, NIACE has a similarly impressive roster of engineering companies using the facility, including Thales and The Wright Group. It was equally pleasing to learn that the centre are steadily building links with our High Value Manufacturing Catapult Centre.
The story at Bombardier was just as encouraging, with the insight provided by their Director of Engineering and Strategic Technology Development, Gavin Campbell (alongside a tour of their impressive production facility) leaving me encouraged that their capability and production expertise auger well for an ongoing anchoring of Bombardier's wing production here in the UK.
Life sciences
The UK's largest home grown diagnostics company, employing over 1000 staff, Randox has grown from humble beginnings in a former chicken shed in a farm in Co Antrim to its current status, manufacturing 8% of all clinical chemical tests globally, with around 350 million patients diagnosed using Randox technology each year. Encouragingly, a third of all profits are reinvested into R&D. The Technology Strategy Board has supported Randox over a number of years and I was particularly pleased with their announcement, on the day of my visit, of their success in a Small Business Research Initiative (SBRI) funding competition.
Almac, headquartered in Craigavon and with 3000 employees globally, has been similarly successful in their applications to our funding competitions. Alongside other members of the Almac team, Exec Director, Colin Hayburn, explained just how important the rapidly developing area of personalised medicine is to the company and the industry-wide effect this new area of biomedical development will have on health economics. One of the key challenges will be developing new, non bureaucratic regulatory pathways, allowing UK companies to bring their innovations to the global market as quickly as possible.
SBRI
There are some great SBRi company examples in Northern Ireland such as My Tour Talk and RepKnight. However, given the excellent business, academic and NHS links in Northern Ireland it is clear to me there are more opportunities. SBRI is unique in the way that it opens up the large, lucrative public sector procurement market up to companies that don't have the scale that might otherwise be required to effectively position themselves as potential suppliers.
Although government, in their role as 'lead customer' have a role to play in identifying those public sector areas in need of innovation, there is also an important role for us to play in ensuring that we better communicate those SBRI opportunities to companies in the region. It was great to meet the team from the Northern Ireland Science Park (NISP) and together with MATRIX NI and Invest Northern Ireland I agreed to explore ways to help foster greater awareness and take-up of our funding streams in the region, including Smart, which offers specific, targeted support for early-stage innovations.
Far from being a historical curiosity, Northern Ireland's proud industrial heritage continues – but where once rivets and looms provided the chorus in the regions innovation symphony, now high tech processes are the norm, with carbon fibre and bio-analysis amongst a raft of materials and methods to the fore. The excellent links between businesses, government and the research base have helped to ensure that the support the Technology Strategy Board provides has been well utilised, encouraging greater innovation. There is more to be done – particularly in terms of ensuring that SMEs are better aware of the opportunities provided by our Smart and SBRI funding streams. We will step up to that challenge