It's a given that parents are hugely influential on their children's choices. Your parents and your wider family pretty much dictate the way you see the world and your role within it. Regardless of the numerous times you claim to 'be ignoring' your parents as a teenager, they have the power to influence your subject choices at school and ultimately your career path.
As a parent, and someone with a lifelong love of engineering, I know how important it is that young people understand where science and maths subjects can take them. However, if we want to have enough engineers in the future, it's not enough for those parents in the know to encourage their children to go into engineering; we have to spread the message further.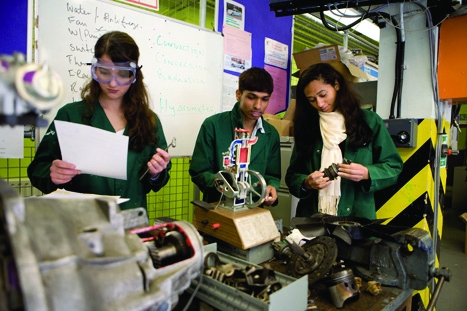 We all want to provide the best guidance we can but parents can't be the experts in everything. That's why it's so important for the engineering community to work together to ensure that engineering careers are represented in Careers Education, Information, Advice and Guidance for young people.
EngineeringUK recently conducted some research* into how we can best inform and support parents through our programmes The Big Bang Fair, Tomorrow's Engineers and the careers information and resources which underpin them. The majority of parents thought access to careers advice was important: 95 per cent thought careers advice in schools was important for enabling young people to make informed decisions about their subject choices and the same again said it was important in helping them to make career choices.
"Only four parents in ten would be confident to advise their children about a career in engineering
The fact that only half of parents in the UK feel confident to give advice about careers on the whole and only four in every ten would be confident to advise their children about a career in engineering underlines the opportunity that we have to help fill that gap. The Big Bang programme provides the platform for the science, technology, engineering and technology community (business and industry, government, education, professional bodies and charities) to do just that.
The Big Bang is underpinned by curriculum-linked information and resources that young people, parents and teachers can access at any time. But the best way to really understand the breath of opportunity that science, technology, engineering and maths can open up to young people is to see it for yourself of course. In the first week of booking 25,000 people booked a place, three times the rate of last year.
The Big Bang Fair enables young people and parents to find out first-hand about the amazing opportunities that science and maths subjects can lead to. They canask their burning questions in the careers resources areaand meet inspiring engineers and scientists from some of the biggest and most interesting companies in the UK.
The Big Bang Fair takes place from 14 – 17 March 2013 at ExCeL London. We work with over 170 organisations, which share our commitment to inspiring the next generation of scientists and engineers. If you feel the same way, parent or not, then I urge you to get in involved.
Paul Jackson is chairman of EngineeringUK
*EngineeringUK Careers Advice Survey undertaken by Populus on 3 -7 October 2012.