Collaboration between industry and academic institutions, along with their students, can – in theory – be greatly beneficial for all parties; it enables in-depth research, knowledge transfer and drives technical advancements and industry innovation. However, in practice it can be hard to achieve.
Often, short term commercial challenges of big businesses mean that it's difficult to invest in internal deep-dive, long-term research for the next wave of technologies. Academic collaborations can offer a creative approach to this important area of R&D strategy. For example, they can create environments whereby PhD students can spend three or more years gaining experience, completing their research and launching their career while really digging into a topic that has significant industry and commercial relevance.
For any business starting off on such a collaborative journey, it is essential to agree a clear and strategic focus that encapsulates both parties interests for the engagement from the off, outlining a vision and some clear goals for all partners. When aligned and focused, these collaborations have the potential to leverage university resources and insights to inform the next generation of technology, products and services.
Investing the time and effort to really understand at a deep level the different goals, cultures and motivations is key to success. As is being open and honest about how to deal with potentially thorny topics, such as confidentiality and intellectual property (IP), for example. Often, these are the issues that can grind a collaboration to a halt before it has got going, especially if they are dealt with in a narrow legal capacity rather than by the main stakeholders, who will take a broader view.
For example, it may be necessary to have different, more flexible IP models with partnerships depending on the collaborative remit, respecting the interests and constraints of the university to ensure all parties are content. Ultimately, this means adopting a pragmatic approach to negotiations, proactively working with the legal teams to overcome any problems. Compromise and flexibility are essential; to be creative and adaptable according to the circumstance.
For a truly collaborative approach it's important that PhD students become fully-fledged members of the team as well as the university, ensuring they feel and are visibly seen as part of the organisation with all the appropriate access and interactions.
Through this openness they gain full insight into the intricacies of the industry, access to state-of-the-art facilities, and get to work alongside expert engineers and consultants in the field. This fantastic opportunity also helps attract a great cohort of talented students. The students reap much more from the experience, and it results in more focused and relevant research that addresses industry innovation challenges head on.  
The benefit for collaborating companies continues long beyond the conclusion of each PhD student's studies. For example, if a student progresses to become an employee at the end of their academic journey, the business gains from this talent retention are immense. Conversely, if a student instead progresses to another role within the automotive sector – for example with one of our customers – then they become ambassadors for the partnership and provide vital links and potential for future collaborations within the industry.
The relationship between Jaguar Land Rover and Warwick University is a great example of how such partnerships can work on a grand scale. Yet collaboration with academia can benefit companies of any size. Even with more limited resources, establishing a critical level of engagement that creates a positive impact is possible.
At HORIBA MIRA we've been collaborating with universities for many years, initially through ad hoc projects and sponsored PhDs. Around five years ago we decided the conditions were right to make this activity more strategic, building on what we had learnt and developed. With buy-in throughout the business, we invested resources and funding to create a number of sponsored PhD positions at one time and fully integrate them within the company, establishing an entire cohort of innovation-driving PhD students. This created scale and natural processes for mentoring and technology transfer.
More from HORIBA MIRA
Despite not having the scale of an OEM, we've developed strategic partnerships with a number of universities, including overseas. Collaborations of this nature aren't just for bigger corporate businesses and OEMs; they can be achieved successfully at the medium business level, and I believe they can still be effective at the SME level, too.
One pertinent example of successful cooperation is the ASSURED CAV facility at HORIBA MIRA. Following the scaled up PhD cohort and a number of key collaborative projects with Coventry University, the goal was set to develop a world-leading ecosystem for the development and testing of connected and autonomous technologies based on the MIRA Technology Park.
Now fully operational, ASSURED CAV enables OEMs and next-generation mobility providers to investigate a wide range of driving scenarios and test their technologies in a safe and realistic environment alongside a virtual test environment, which is a 'Digital Twin' of the physical facility. ASSURED CAV is a customisable ecosystem enabling vast real-world CAV driving scenarios to be created for testing that cannot safely be conducted in public environments.
While nurturing the talent of tomorrow, collaborations between industry and universities are of immense benefit when focused on innovation with a shared vision – proving jointly beneficial to the talented students involved and the companies supporting them, and driving forward the technical advancement of the wider industry and society in general.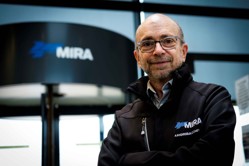 Anthony Baxendale is Emerging Transport Technologies Manager, Research & Innovation at HORIBA MIRA,