RS and OKdo – a part of the RS Group – were approached to help with a critical mission. Led by the Micro:bit Education Foundation, the BBC and Nominet, alongside a network of partners, the mission was to support the production and distribution of 675,000 micro:bits [pocket-sized computers that allow students to get hands-on with coding] to every UK primary school that registers to receive them – up to 22,500 – during the academic year 2023/2024.
RS has a best-in-class supply chain and distribution capability, and OKdo offers large-scale manufacturing in Europe. Not only were we an appealing partner for the project, but we were honoured to be selected to be part of this ground-breaking, impactful initiative.
RS and OKdo are extremely passionate about inspiring the engineers of tomorrow, and for us, there felt like no better way to make a tangible contribution to an initiative that will put so many young people on the very first step of their digital journey. Our pivotal role meant involvement in some critical areas: manufacturing the pocket-sized micro:bit computers – which help children explore code programming in a practical way, and inspire creative thinking – at cost, and providing distribution to UK primary schools free of charge.
There was no doubt this project would fulfil our goal of 'making amazing happen for a better world', as well as meeting one of our organisation's five strategic priorities: innovation. This is a cornerstone of our Environment, Social and Governance (ESG) 2030 action plan to build skills and foster innovative solutions that improve lives. But we also knew this would involve a huge collaboration across multiple teams in both organisations, and present a real logistical task because of the sheer scale of the project. 
Driven by a lofty goal, we created a user-friendly, multi-lingual registration form embedded on the Micro:bit Education Foundation's website for OKdo. Despite complexity due to the involvement of multiple organisations, we simplified the process, ensuring quick access to kits for schools. The form handled huge traffic, processing 7,000 registrations on day one and 3,500 on day two!
Then there was the task of getting the classroom kits to the schools. An innovative solution was required to integrate RS and OKdo systems to enable the fulfilment of the classroom kits through the RS supply chain network.
Using automation and technologies, a robot was developed to create the shipments in RS systems – which we affectionately named Bambi! The scale of IT development, building of Bambi, tri-party BBC agreements on data sharing, embedding our data collection and reporting into the Foundation's website was an epic task.
This sheer scale of matrix collaboration to control transactions through our systems was colossal and unprecedented. When you're facing a potential 22,500 deliveries, working within school opening times, around holidays and weekends, the challenges are obvious.
As a major distributor, despatches of this volume and scale, and smooth handling of order fulfilment, fall within our normal ranges and capabilities. We transformed an area of our Corby distribution centre into a dedicated space to process the orders, with a specialist team handling the inventory and packaging, and a designated area for processing and completing the orders.

The aim was to operationally use Bambi as much as possible and eliminate manual processes: our main aim is for schools to have the RS seamless delivery experience. We also wanted zero delivery quality escalations, so the schools and teachers can focus on their programme of work to teach with the micro:bits.

There's no doubt that without a passionate, dedicated team, collaborative working and highly-coordinated communications, this project could never have worked. We know the Micro:bit Education Foundation appreciates our efforts and recognises we have gone above and beyond to guarantee a smooth service. We've hit every deadline and milestone we had agreed to work to, and while we can't say it's been a totally perfect process – lessons are being learned every day – we have been able to produce and distribute the micro:bits to plan.
The lessons we're learning are driving both immediate changes and future improvements. We now have a blueprint to enable future large-scale charitable or Government roll outs of a similar nature. Our ambition is to continue to use our capabilities for community impact in the future, and we would welcome any opportunity to enable the advancement of technology into education systems globally.
Corporations have a responsibility to give back to the community and to leave the world a better place. RS and OKdo have collaborated to make this a reality and it's a true demonstration of commitment and investment to a cause with huge impact for a generation of children in the UK. I may well have lost some sleep heading up our part in this project, but I'm very proud of what we've achieved.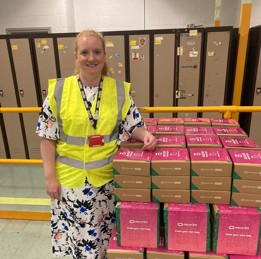 Sarah Fawcett is Vice President of Global Operations at OKdo, part of RS Group PLC