My original career plan was to become an astronomer or astrophysicist. However, by the time it came for me to apply for my master's degree I wanted something more hands on; something I could see and touch. And so, I went on to undertake a MSc in Geohazard Assessment which covered volcanoes, landslides and earthquakes. It was here that I was introduced to rock and soil mechanics, and knew this was something I could build a career in.
Getting started, and finding my sea legs
In October 2008, I joined Fugro's marine site characterisation business as an engineering assistant. I wasn't too sure how I would find working in an offshore environment, or if I would even like it. I was also apprehensive about coming in to a such a male dominated workspace. To be honest I found my first trip offshore trip really difficult, it was such a step out of my comfort zone into a completely different environment. However, I've never backed down from a challenge, and once I found my sea legs and gained some more experience, I began to really enjoy it. The offshore laboratory on the drill ships felt like my little kingdom.
I didn't experience any difficulty in being one of very few women working offshore. I always got on very well with my colleagues, we worked and lived in each other's pockets for roughly four weeks at a time offshore, and that builds such a strong sense of camaraderie. It was a really special way to kickstart my career and I have some amazing memories.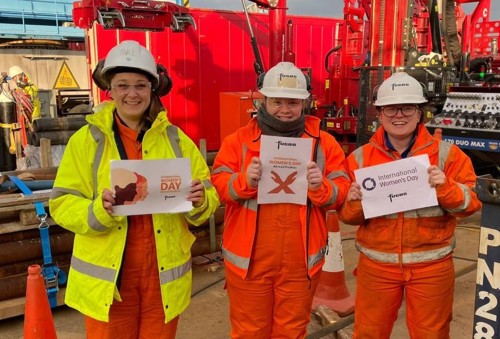 One of the trips that stands out in my mind the most, was a trip to offshore Canada. We were working in very deep water (1800m) not far from where the Titanic sunk. It was a beautiful part of the world and I was able to take some time after the project to explore the area and do some whale watching and scuba diving. A trip I'll never forget!
Onwards and Upwards
Over the next thirteen years I continued to work my way up to Supervising Engineer. I was a lead engineer offshore running and organising the laboratory, making sure data was correct and consistent, and liaising directly with clients and other departments. I was also responsible for training new staff, and really thrived in the people management aspect of my job. I enjoyed helping younger members of staff become more capable and confident and it was amazing to watch them develop in their careers.
It has also been great to see the number of women working in offshore geotechnics increase over the years and I have been keen to support them, particularly when it comes to site work. I have always been very vocal, but now I wasn't just speaking up for myself but for junior engineers starting out who may not feel as comfortable as me challenging the status quo. I encouraged junior engineers to speak out if they were not happy about something and have worked hard to create a safe environment for them to approach me with any concerns. I take this responsibility very seriously and in return have high expectations of those that manage me.
In 2021 I moved to the land site characterisation business within Fugro as a Senior Engineer. Although I knew ground investigation onshore would be very different to offshore, I was surprised by how stark these differences are. One specific challenge for onshore projects meant having to deal with landowners and the public. Pedestrians, traffic, public buildings etc., need to be managed including noise and light pollution that we may create during the site investigation. The worst I experienced offshore were some angry fishermen!
However, I am really enjoying learning in a new environment again and seeing completely different geology, which is much more varied than offshore. I now have a larger team to manage and am looking forward to getting to know them all and help them to develop. This change has reinvigorated me both personally and professionally. I feel that having experience both offshore and onshore will make me a better engineer and manager. I am learning, growing and I am excited about what the future might hold.