The financial downturn brought the national economic constitution into sharp focus and highlighted a clear imperative: Britain needs to get back to the business of making things.
Numerous factors have contributed to a proportional decline for the manufacturing sector, which now represents 11 per cent of GDP (2009 figures), down from 18 per cent in 1990. In terms of output, however, we have grown and are sixth in the world. The decline of manufacturing is consistent with other western economies. Yet in the UK, we have arguably fallen behind the eurozone and US in the manufacture of OEM machinery and medium-value customised goods.
The need to support manufacturing was recognised by the Labour government, which had begun to invest. The coalition now faces a contrasting paradigm: how to cut costs while maintaining regional development, R&D investment, skills and support for the commercialisation of new ideas?
Stakeholders recognise the long-term nature of the challenge. The coalition's preliminary balanced growth agenda aims to build on potential manufacturing strengths, deliver economic stability, remove barriers to growth and improve our transport and communications infrastructure. It also starts to tackle the image problem that is a part contributor to our engineering skills deficit.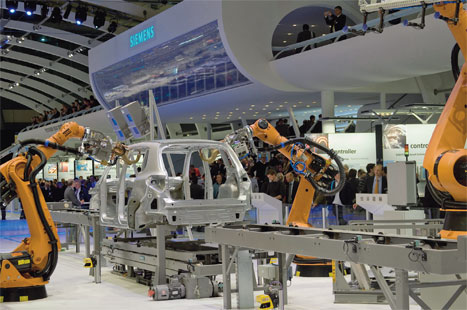 The £200m High Value Manufacturing Technology Innovation Centre, under the leadership of the Technology Strategy Board, will showcase British technology. Industry and academia will address the challenge of linking design to domestic manufacture through its collaborating institutions.
Despite other regional cuts, £57m has been proposed to enhance the Manufacturing Advisory Service. And although an automation and robotics programme has been proposed, I'd welcome further research and benchmarking in manufacturing competitiveness. Automation is key to improving quality. When digital design tools are linked to digital automation systems, much eastern advantage can be neutralised.
The coalition must maintain the right mix of support for education, technology, tax and investment
In education, I see the most encouraging development: the re-introduction of vocational training via apprenticeships and university technical colleges (UTCs). The UTCs offer a learning environment that exposes 14-19 year olds to specialist teaching and equipment and provides an alternative route to university. For undergraduates, however, the state could do more to promote STEM-subject degrees through fee rebates for British learners. Employers also need to respond by paying engineers more competitive salaries to improve career attractiveness.
The £1.5bn Business Growth Fund and Enterprise Finance Guarantee should help SME manufacturers. The government could go further.
Companies will benefit from the eventual reduction of corporation tax to 23 per cent, but this won't reverse declining investment in capital plant and equipment. The Budget's doubling of the limit on capital allowances from four to eight years should help UK manufacturers to invest.
However, our poor investment culture is a long-standing problem. The UK needs to be much bolder in making long-term technology investments.
Most indicators show that we have seen positive, perhaps surprising, underlying strength in manufacturing through the first year of the coalition.
We need to improve the link between our innovations and domestic manufacturing. To achieve this, the government needs to maintain the right mix of support for education, technology, taxation and investment and clarity of ownership for its responsible bodies.

Brian Holliday
Divisional director for industry automation, Siemens
Education

Degree in computer systems, Cardiff University
MBA, Manchester Business School
Career

1986 Joins Texas Instruments
Holliday has held a variety of technology and management positions at companies across several industry sectors
1993 Joins Siemens
1999 Gains chartered engineer status
2010 Joins the board of Siemens Industry Software
Holliday is also global partner manager for Siemens with the IET and chairs the directors' forum of Gambica, the trade association for UK automation companies