If you were anywhere near the NEC mid-March you may have seen the tens of thousands of schoolchildren heading into The Big Bang Fair.
David Cameron also visited The Fair following the announcement of a £67 million package to get more new maths and science teachers – 2,500 new recruits and upskilling for 15,000 non-specialist teachers. Having a great teacher makes a lasting impression on young people and as we've been calling for an investment in science and maths teaching for a long time, it's good to finally see some progress on that front. Perhaps maths and science teacher numbers will go the same was as apprenticeship targets and become part of an electoral bidding war.
The Big Bang Fair is an unprecedented and unparalleled collaboration between business Government, education and the wider STEM community. We are proud of the enthusiasm for and commitment to The Fair and what it sets out to achieve.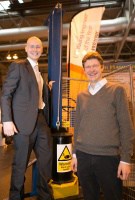 It is only possible thanks to our lead sponsor BAE Systems and major sponsors GSK, Rolls-Royce and Siemens, who really get into the spirit of The Fair. They offer highly engaging activities at the event and their staff (including apprentices and graduates) are on site telling young visitors about engineering or science and giving them an insight into what their job is really like.
These professionals and other volunteers, young scientists and engineers released from their day jobs, came to inspire the next generation. Over 200 companies and organisations are involved. If your company was part of that this year you'll understand how important it is. If it wasn't, you should ask why not?
There's no doubt that The Big Bang Fair is a fun day out, but it's so much more. It gives young people the chance to speak to leading scientists and engineers and to see for themselves the range of exciting careers that their studies can lead to.
It's not just about the visitors and exhibitors though. It's also about the young scientists and engineers (including, I'm proud to say, my own daughter) competing in the finals of the National Science and Engineering Competition. They not only had the opportunity to showcase their projects to the panel of celebrity judges, they were also an inspiration to the other young visitors.
The 2015 UK Young Engineer of the Year is Colum McNally from Newry, Northern Ireland, was part of that number and impressed judges with his 'Agri-Hammer'. Engineers see problems and look for innovative solutions and Colum is no exception. His invention is a hydraulic machine inspired by his experience growing up on a farm. It not only combines the two functions of log splitting and post driving but also reduces the risk of injury with its safety measures. I hear he's already had various approaches about bringing it to market. We wish him well.
The Big Bang Fair is rewarding for everyone involved. Emma Bartley summed it up well when writing about it in The Times recently, saying 'both visitors and exhibitors make a lasting impression on each other'.