Briefing starts the week with news that some of RAF Scampton's finest will be in London tomorrow to mark 50 display seasons of the Red Arrows.
Taking place on the concourse of Victoria railway station, the event sees the Red Arrows display team up with the manufacturer of the Hawk T1 aircraft whose iconic red, white and blue livery is known around the world. The aircraft itself is currently used by 21 air forces and orders and sales stand at nearly 1,000.
As part of the event BAE Systems will premiere a new film it has created to publicly thank them for five decades of aerobatic excellence.
BAE Systems tell us that attendees will have the opportunity to take pictures with the Red Arrows team who will be on the concourse from 8am. Those of you that do take this opportunity tomorrow are encouraged to 'tweet' photos to @baesystemsplc using the hashtag #Reds50.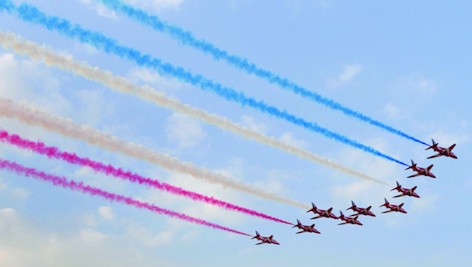 Weightier matters now and news that the 'We need to talk about fracking' tour concludes in London this evening with a panel discussion at the Central Hall Westminster.
Starting at 8-00pm, the event sees Jon Snow hosting the panel that includes Tina Rothery – RAFF (Residents Action on Fylde Fracking), John Ashton - climate diplomat, Liz Arnold - US Anti-Fracking Campaigner, Paul Mobbs - Environmental Consultant, Millie Darling - UKYCC (UK Youth Climate Coalition), and Dr. Michael Stein - Founder of Trillion Fund, a crowd financing platform for renewable energy projects.
The panellists will put forward the case for why the British public needs to talk about fracking and decide whether they feel it is a genuine source of safe, environmentally benign energy.
In a statement Joe Corre, a businessman who is heading-up the Talk Fracking initiative, said:  'Does the dash for gas, a fossil fuel, represent fossilised thinking? It seems we now have a choice between a destructive solution or a creative one. The government is pressing ahead at speed, without a democratic mandate or social license to allow fracking even under people's property and farmland without their permission. Will this fracking technology really deliver energy security or a toxic legacy for future generations? We need to talk about it and the time is now.'
You might be wondering why there aren't any representatives from the fracking industry on the panel, seeing as it's meant to be an open and frank discussion on the subject. We thought that too, prompting an email to event's PR representatives, who informed us that industry figures were asked to attend all five We need to talk about fracking events but that none could attend.
Thursday sees Birmingham host IMechE's Smarter Factories; an event that will ask how new technologies can improve the performance and competitiveness of UK manufacturing.
The Coalition government is well aware of the role of manufacturing in rebalancing the economy – although manufacturing is still a few percentage points behind its pre-crash levels – and The Engineer takes things further this month with an in depth look at how new technologies are changing the way manufacturers build aircraft.
In Birmingham, delegates will hear about the disruptive technologies that are transforming production environments through keynote addresses, expert speakers and round-table discussions.
The schedule of events are too numerous to list here but a panel discussion on 3D printing and the impact of additive layer manufacturing, both now and in the future. Warwick Manufacturing Group's Dr Emma Rushforth will presentthe latest research on automation and robotics, and how cloud computing and the Internet of Things will change the way factories of the future operate.
Finally, nominations are open for the WISE awards, which are designed to acknowledge inspirational women and girls that work in technology, science or engineering.
According to WISE, ten awards fit into two strategic areas: Making the Case is for individual women and girls who are inspiring the next generation to study and work in STEM by showing how they can make a difference, whilst Building and Sustaining the Pipeline praises those whose deeds have increased the recruitment, retention and progression of women in STEM organisations or sectors where women are currently under-represented.
The deadline for nominations is 22 August 2014. Click here for a full list of awards categories or to download nomination papers.