Many of today's engineer's gather this week in Birmingham for Advanced Engineering UK, but with Tomorrow's Engineers entering its third year, Briefing is very much focussed on future technical talent and training.
Tomorrow's Engineers 2015 is summed up perfectly by EEF's Verity O'Keefe who describes the week long initiative as "sending up a flare to alert young people, parents and teachers to the wealth of opportunity in engineering."
O'Keefe, the employment and skills policy adviser at the manufacturers' organisation added: "A career in our sector ticks all the boxes, offering jobs, good pay and the chance of an interesting and dynamic long-term career."
EEF added today that there will be over 2.5 million job openings in engineering companies up to 2022, with manufacturers tasked with finding almost one million workers by 2020 to replace those retiring or leaving industry.
Tomorrow's Engineers is led by Engineering UK, which says 66% of engineering and technology graduates were in full-time employment within 6 months of graduating compared with 58% of all graduates.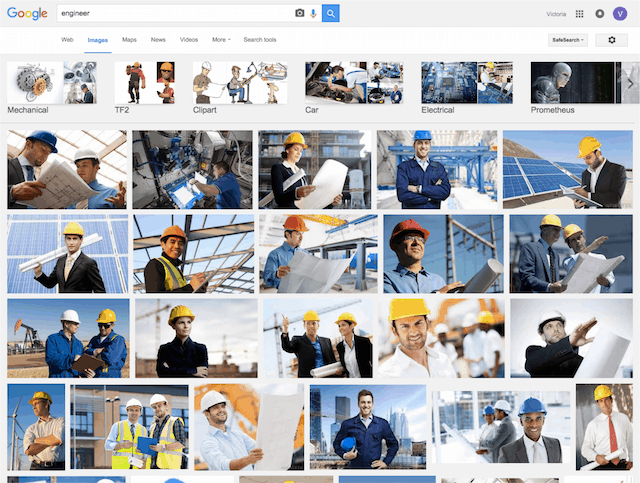 One of the aims of Tomorrow's Engineer's is to highlight a career in the industry to young girls, but new research has found that this endeavour could be hamstrung by so called cyber sexism.
A study released to mark the start of Tomorrow's Engineers has found universities, media outlets, and search engines culpable reinforcing engineering stereotypes through their choice of images online.
EngineeringUK reviewed over 4,000 images from 71 websites that encompass engineering industry bodies and found that less than half (42%) of so-called 'people pictures' depicted women.
Similarly, image searches for the term "engineer' on Stock image sites and search engines found 26% of search engine results featuring women and 25% of stock images containing female engineers.
Bilendi interviewed 500 11-16 year olds in September 2015 on behalf of EngineeringUK and found that almost one in ten of the girls surveyed were put off a career in engineering due to the images they viewed online. A further 28% of the girls surveyed thought the images too male orientated.
Commenting on the survey, Paul Jackson, chief executive of EngineeringUK said: "We cannot afford to lose would-be engineers by carelessly reinforcing stereotypes and not showing the full scope of exciting careers available.
"As part of Tomorrow's Engineers Week 2015 we are calling on all organisations to look carefully at how they represent engineering and stop using these out-dated, gender stereotypical pictures.
"We need to inspire, not discourage, young people to consider engineering as their future career."
Can those that do make the choice to pursue STEM career be confident they're receiving the right education?
According to two leading figures at the Institute for Advanced Manufacturing and Engineering (AME) - a collaboration between Coventry University and Unipart Manufacturing Group – billions of pounds are wasted annually on ineffective training.
John Neill, Unipart Group Chairman and CEO and Coventry University's John Latham used the one-year anniversary of the UK's first 'Faculty on the Factory Floor' to urge the sector to embrace what they see as a more hands on, career ready approach to training.
According to AME, delegates to its manufacturing hub in Coventry have heard how £42.9bn of investment is invested into training and development per year, but over 145,000 jobs are left unfilled due to a lack of skilled candidates.
Neill and Latham believe the AME blueprint is offering a feasible solution, with over 60 young people currently completing degree courses that will make them industry-ready.
"The original vision was to find a different way of educating engineering and manufacturing graduates so that when they finished their learning they could enter employment and make an immediate positive impact," Latham said in a statement.
"We were already working with Unipart and both of us shared a passion to meet the growing skills gap. The result was a coming together of minds and investment in shaping the UK's first 'Faculty on the Factory Floor', a place where young engineers could learn on 'live' manufacturing projects and from some of the best lecturers and engineers in the country.
"This ensures that the theory is applied into practice pretty much every day of their course and allows them to learn the softer skills of teamwork, project management and how to present ideas clearly."
Advanced Engineering UK takes place at the Birmingham NEC from 4-5 November with highlights including Tesla, which will be presenting its Model S electric vehicle, an EV with up 310 miles of range. Furthermore, Libralato will be presenting its MK3 Libralato Engine, the world's first rotary Atkinson cycle engine.
Aiming to inspire young people, their parents and teachers through a host of activities based around the theme 'Mission Inspiration', Tomorrow's Engineers Week 2015 will include a f hands-on activities and interactive events, plus activities run by employers and engineers. Two young vloggers appointed for the Tomorrow's Engineers 2015 will share exclusive YouTube content including interviews with inspiring young engineers.