'Noise is an easy thing to hide behind. If you make a lot of noise and shout behind that, nobody can tell what you're singing.' - Jarvis Cocker.
Last week, Hewlett-Packard announced that it was to stop selling Apple Computer's iPod music player under its own brand, ending a relationship that lasted less than two years.
Over that time, the Apple iPod music player has become the de facto accessory for anyone with money to burn and/or teenage children. If you ain't got one hanging around your neck, you're just not cool.
And the reason, of course, that you'd want to strap one of these iPod things on in the first place, is obvious - so that you can create your own personal space wherever you go.
But does the iPod really achieve that goal? No, not quite. Because while it certainly does allow you to listen to whatever music takes your fancy, it does not allow you to express yourself in any manner, shape or form.
You can't, for example, deliver your own interpretation of The Pretty Things' Private Sorrow at the top of your lungs while travelling northbound on the 5.30pm out of London's St. Pancras station. Not unless you want to get arrested by police carrying submachine guns, of course.
And therein lies the opportunity for HP to make it's own mark on the personal wearable entertainment market. If its engineers could only allow users to do that, then they've got one over on the fellas at Apple and their old-hat iPod.
And now, believe it or not, there's a way that they can!
All thanks to a rather intriguing little invention by Kelly Dobson from MIT in Cambridge, MA.
Ms. Dobson, you see, is the inventor of ScreamBody, a wearable 'body organ' that looks like a backpack worn in reverse. In use, it serves as a 'portable space' for screaming.
When you scream into the ScreamBody, your scream is silenced. No-one around can hear you. But the scream is also recorded so that it can be played back whenever and wherever you like.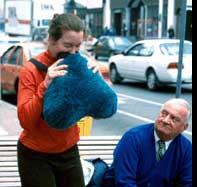 Of course, there's no reason that the ScreamBody couldn't be used to capture the sound of singing instead...
So come on HP! Here's an opportunity waiting to happen. Build an iPod player into the ScreamBody and give your customers what the chaps at Apple have failed to deliver - a truly two-way interactive experience!
A wearable device that can play music as well as allow users to freely express themselves.
Dave Wilson
Editor
The Engineer Online
If you'd like to see the ScreamBody in action, then check out Karen Dobson's video at:
http://web.media.mit.edu/~monster/screambody