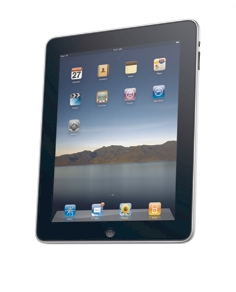 So it's finally here. The much anticipated launch of the Apple iPad in the UK and the rest of the world has been met with eager consumers queuing overnight to be the first in line to purchase the latest must-have gadget.
The Apple store on Regent Street, London is a mere five minute walk from our Soho offices and normally, on an occasion like this, I'd pop along to ask people in the queue why they've camped overnight on the pavement to get hold of the much hyped machine.
Unfortunately, this week's Futurescope is being written on a laptop connected wirelessly to the internet in the wilds of Suffolk so making it to London's premier shopping street is somewhat impracticable.
However, there is a silver lining given, as already stated, that the machine I'm writing on is wirelessly connected to the 'net. This in turn has led me to a very helpful bunch of new chums on an iPad forum who offered their opinions on the relative merits of Apple's 'magical and revolutionary' machine that Apple CEO Steve Jobs says is 'way better than a laptop, way better than a phone.'
The claim to be 'better than a laptop' has ruffled some feathers with warnings to consumers that the iPad – which lets users browse the web, read and send email, share photos, watch HD videos, listen to music, play games, and read ebooks – is not a like-for-like replacement for notebook PCs or laptops.
Consumer feedback
I put this to users of ipadforum.net and this is what some of forum members had to say:
I think for the most part the iPad does a large majority of what most people would be using a laptop or desktop for. In its current form, as of today, the iPad can handle most tasks extremely well, and especially for consuming content. Where it might need some improvement is in the ability to 'create' things such as Documents (done well by Pages), but also better at creating spreadsheets (Numbers) that would allow a large number of users to view, edit and share Excel spreadsheets - Robsoule
It's not even close to the versatility and power of a good laptop. I replaced my laptop with it because most of what I was doing with my laptop fell within the abilities of the iPad, with the benefit of lighter weight, cheaper data plan and longer battery life. If you're a power user to content creator, I'd say you're better off with a laptop - EBp
I consider the iPad to be a perfect desktop extender. It allows me to do anything anywhere and I can access my files, videos, music, and even desktop anywhere I go - Gentlefury
The iPad can actually replace most home users laptops. Not all, but most. Most consumers use a computer to do internet and email and perhaps a bit of media, all things the iPad is perfect for. When I want to work in Photoshop, or Cubase or Dreamweaver, I use my desktop. Just about everything else, my iPad - Bremen
The wrong discussion
The laptop versus iPad debate would appear to be a misleading non-starter. What the iPad has done, however, is usher in the latest advances in tablet computing that Deloitte describe as the 'Goldilocks' of devices: they're not too big, not too small.
Speaking in January this year, Jim Sloane, lead technology partner at Deloitte said: 'netTabs are likely to fill a gap between smartphones—which are often too small for watching videos or web browsing—and notebooks and ultra-thin PCs, which are too heavy or expensive.
'However netTabs are unlikely to cannibalise sales of smart phones or lap tops - rather these devices will contribute to the growing ubiquity of computing in the home, heralding an era in which connected, browser based devices become as ubiquitous in the living room as scatter cushions.'
The ubiquity of these machines can be seen in sales, which make compelling reading. On May 3 Apple announced that sales of the iPad in the US had broken the one million mark. In Europe alone, around 900,000 were pre-ordered prior to today's launch. Ipads on the shelves of Apple stores, Currys, Dixons and PC World are expected to sell out by close of business on Saturday.
Rival products are either available already – such as the Archos9 PC Tablet and Fusion garage JooJoo – or in development, giving consumers freedom and flexibility to enjoy this new era in computing which seems anchored to leisure and not work.
When I return to London next week I fully expect to see early adopters clutching their new iPads. In the interim, I'll keep typing away on this trusty laptop, which incidentally is very portable and lets me browse the web, read and send email, share photos, watch HD videos, listen to music, and play games. A bit like the iPad then?