Who do you think said this?
"I want the next decade to be the decade of the engineer.
In doing this we will build a more balanced and sustainable economy, delivering high skills and innovation with engineers of all kinds at its heart."
Here's a clue: it wasn't Santa.
This was Business Secretary Vince Cable MPs comment on the launch of Engineering UK 2014, EngineeringUK's annual report on the state of UK engineering. The second part of this statement is a fact that readers of The Engineer know only too well of course. But to have this recognised by the Secretary of State for Business, Innovation and Skills with the intent to make the next ten years 'the decade of the engineer' shows that our message is gathering real momentum where it matters.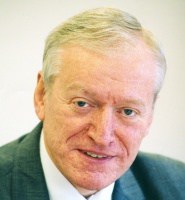 The Perkins Review in November stepped up the drive another gear, prompting Government investment in funding for engineering skills to the tune of £49 million. This included £250,000 to support the engineering community in its collaborative efforts under Tomorrow's Engineers to join up efforts to promote engineering careers in schools.
Perkins' call to action to Government was received more positively and took up significantly more column inches in national and regional media than most reports of this kind ever would as a rule; largely because it was published to coincide with the Department for Business, Innovation and Skills' launch of the first Tomorrow's Engineers Week.
Tomorrow's Engineers Week was further evidence - to those who still needed it - that public awareness and appetite for engineering careers inspiration is on the up. Traffic to the Tomorrow's Engineers website increased by 173% over the Week, thanks to hundreds of activities and events held by over 70 partners across the UK. The number of 11-14 year-olds who would consider a career in engineering rose by 6% in just seven days - testament that the central aim of the Tomorrow's Engineers programme to coordinate collaborative engagement across the engineering community can make a big impact. EngineeringUK will pick up the mantel and coordinate the Week in 2014.
"Engineering is high priority across Government departments – and they too see the value in working together
Business and industry, Professional Engineering Institutions and the education sector have shown broad support for both Tomorrow's Engineers and Tomorrow's Engineers Week and, as the skills shortages highlighted in Engineering UK 2014 attest, it is vital that this momentum does not plateau.
Thankfully there is no sign of a slow-down; in December I attended a roundtable at 10 Downing Street dedicated to a discussion on increasing women in science, technology, engineering and maths careers. The meeting was hosted by the No.10 Policy Unit, David Willetts MP, Michael Gove MP and Elizabeth Truss MP. This is a good indication that engineering is high priority across Government departments – and that they too see the value in working together.
As a sector that is invaluable to our economy, to industrial growth, to global competitiveness and to youth employment, I think the Business Secretary is too modest in his ambitions for engineering. Engineering is in it for the long game, and a decade is way too limiting. We are aiming for an era of engineering – without limits. I hope to work with more of you to keep the engineering agenda moving in 2014.