There was definite air of excitement in Southampton on Monday, as hundreds lined the streets to welcome the Queen on her visit to launch the 92,000 tonne Queen Elizabeth cruise liner.
But despite the ship's enormous size and royal endorsement, there was something overshadowing the anticipation over Cunard's latest vessel for researchers at the National Oceanography Centre.
'Two years of preparation have gone into making today go smoothly,' said project manager, Edward Cooper, as we stepped onto the Ocean Terminal. Facing us was the magnificent RRS James Cook, the world's most advanced scientific research ship.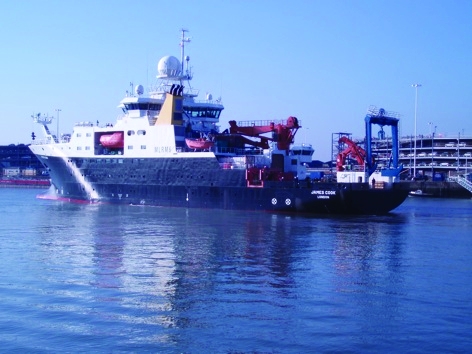 'She sets off tomorrow, heading for Punta Arenas in Chile,' he said. 'It's a big day, the scientists have less than 24 hours to install all their equipment and make sure it works correctly.' And, it seemed, not even the Queen (monarch or liner) could disrupt the activity.
We climbed onboard, dodging scientists frantically running around as we made our way to the engine room. The ship was about to undertake an 8000 mile voyage from the UK to the South Atlantic, recording data on the biogeochemical properties of plankton in the Atlantic Ocean.
As we entered the lower decks, a strong smell of diesel hit us. 'That's three-quarters of a million pounds of fuel going in right now,' said Cooper. A staggering amount needed to feed the 89 metre-long vessel. But the costs, said Cooper, are nothing compared to potential economic benefits of oceanographic research.
And this is an area in which the UK is a world leader. So much so that, at a time of budget cuts, the government has provided funding for the £75m replacement of the James Cook's sister ship, the RRS Discovery. Stepping through each high-tech laboratory and through maze of computers and sensors, it is clear that the James Cook is a testament to British oceanographic research.
But the same can not be said for engineering. Owned by the UK, the James Cook was in fact built by Norwegian shipbuilder Flekkefjord Slipp and Maskinfabrikk. Similarly the Discovery replacement is being built in a Spanish shipyard, and even the 'quintessential British' Queen Elizabeth was built for Cunard in a shipyard in Italy.
Andrew Jeffries, a project manager for the replacement Discovery, believes that despite a strong shipbuilding heritage, the UK now lacks the experience and capacity to build commercial vessels of this size.
'Companies have been focusing on military work and haven't tried to win commercial projects, so some of the capability has gone. In some ways, we would have been pleased if we had gone to the UK. But it would have been interesting to see how they would cope with it.'
It seems a shame that major UK contracts are being outsourced at a time of economic downturn. Jeffries agrees; 'My personal view is that it is not impossible that this could be reversed. Right now we just don't have the capacity. But I think that with our expertise and knowledge, it's entirely possible that the UK can one day get back in the game.'