Most of you will be unfamiliar with the B1119 in Suffolk but be assured, it is an unlit country road with straights and occasional bends to rival any F1 racetrack.
Over-indulgence might have impaired memories of the Christmas break but a night time journey along the rural road will linger for long, thanks entirely to the Vauxhall Ampera in which the trip was taken.
Specifically, the driver's insistence on demonstrating 'sports' mode (one of four driving options) had this passenger letting out whoops of inebriated delight and an instant conversion to the virtues of range-extended electric vehicles.
Taking power and performance a notch higher, the 8th International Low Carbon Racing Conference takes place this week at Autosport International.
In a year when 'green' racking takes to four wheels with the Formula E series, the conference brings together panelists including Lord Paul Drayson,founder, CEO & team principal at Drayson Racing Technologies; Adrian Moore, technical director, Xtrac; and Bernard Niclot, technical director at the FIA to discuss alternative fuels and energy, electric and hybrid vehicles, light-weighting, and sustainable materials.
The main event, Autosport International, will see around 500 exhibitors from around the world exhibit the technology and expertise that helped to generate £1.07bn of new business at the 2013 event.
Kent-based Quaife Engineering will debut new products, led by a five-speed sequential gearkit for the Mitsubishi Lancer Evo V-VIII. The firm will also display a pre-production, six-speed gearkit for the new Lotus Elise S Cup R and its QKE38Z Ford IB5 sequential unit for the Fiesta and Focus.
Transport is a more of a utility for those not in a position to invest in a Vauxhall Ampera (or a Lotus) but that doesn't mean that mass transit has to be inefficient or polluting, as an event taking place this Thursday hopes to demonstrate.
Baroness Kramer, minister of state for transport is scheduled to launch what has been described at the 'world's most demanding electric bus route' in Milton Keynes.
Almost one million passengers a year will use the electric buses (pictured below) that will be expected to carry passengers for 17 hours a day, seven days a week.
The organisers say the trial 'aims to demonstrate that a fleet of electric buses can match their diesel counterparts for endurance and cost efficiency.'
They add that the buses will be aided by wireless recharging, negating the requirement to plug in.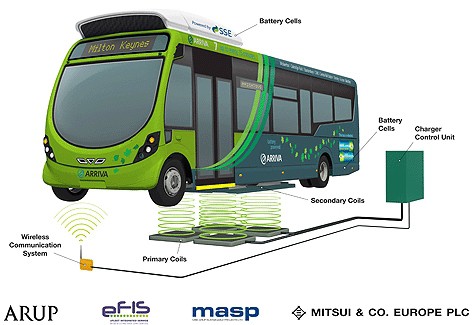 The trial is being run by Arup and Mitsui as a collaborative project that includes Milton Keynes Borough Council, Cambridge University, Arriva, SSE, Wrightbus, and IPT-Technology.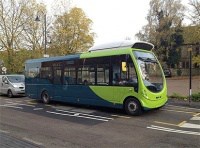 A similar trial is taking place in London where electric buses are operating along two routes
The trial - using 12m single deck buses built by Chinese manufacturer BYD Auto Ltd - will be used to establish whether the technology can stand up to the rigours of operating in an intense urban environment such as London. 
According to Transport for London (TfL) BYD's tests demonstrated a potential running cost saving of around 75 per cent compared to a diesel bus. 
Unlike the Milton Keynes buses, the ones on London's streets will take four to five hours to fully charge overnight and should have a range of 250km. They join around 600 hybrid buses carrying passengers across the capital.
Further details about Autosport International can be found here.