A renewable project claimed to be 'de-risked from a planning perspective' and expected to 'produce…predictable electricity during its expected useful economic life of over 100 years' has launched a £10m investment offering.
Tidal Lagoon (Swansea Bay) Plc tell us it is offering a tax efficient opportunity for individuals to invest in the UK's first tidal lagoon based power plant in Swansea Bay.
The company claims that with technology similar to large scale run of river hydro projects, the project's hydro turbines will produce an estimated 450,000MWh of renewable electricity.
Mark Shorrock, CEO of Tidal Lagoon (Swansea Bay) believes the world's first bi-directional hydro power plant and Lagoon will produce carbon savings in excess of 200,000 tonnes CO2 per annum.
Details of the two-tier investment offering - plus the list of tax breaks generated by the deal - are far too numerous to mention on this page, but you can find out for yourself here.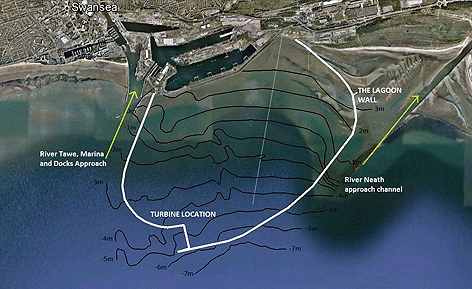 One development struggling to fulfil its objectives can be found in Scotland where the Scottish Borders Council is holding an appeal hearing on Wednesday into plans by E.ON to develop the Corsbie Moor Wind Farm.
The original scheme consisted of 21 turbines but has since been scaled down to nine after two revisions to the plans were made to appease community groups.
On September 3 2012 Scottish Borders Council decided that the wind farm would not be consented despite E.ON's claims to have 'worked so closely with the Councils and communities to ensure that the project was acceptable to them.'
It isn't all bad news for E.ON, given that the 175th and final turbine in the London Array was commissioned on Saturday April 6. Built in consortium with DONG Energy and Masdar, the London Array is the world's largest offshore wind farm. Phase One covers an area of 90km2 and includes 175 turbines with a combined capacity of 630MW. A possible second phase could add enough capacity to bring the total to 870MW.
A meeting taking place this Friday this aims to place Northern Ireland at the heart of an industry claimed to be worth £8bn by 2018.
Being held in Belfast, delegates will hear how Northern Ireland is positioned to take a leadership role in the development of so-called Intelligent Energy Systems solutions.
MATRIX, a business led panel formed primarily to advise on the commercial exploitation of R&D and science and technology in Northern Ireland, says it has 'identified a compelling opportunity for Northern Ireland to take a leadership role in the development of Intelligent Energy Systems solutions which will integrate distributed renewable energy and storage capability to the existing grid, using technologies which measure, analyse and control the flow of energy.'
As well as tapping a market estimated to be worth around £8bn, the development of Intelligent Energy Systems can also address the challenges facing the existing electricity infrastructure in Northern Ireland and 'improve the sustainability, security and affordability of the regional energy supply.'
Today marks the start of Hannover Messe 2013 and over 70 British companies in attendance - including 12 from the East of England - will be hoping to fill their order books and build on existing business relationships.
UK Trade & Investment (UKTI) is supporting the event with commercial specialists from Germany, Austria, Hungary, Croatia and Serbia, who are experts in those markets and the business culture of each country.
UK companies exhibiting at Hannover Messe have had previous support from UKTI via the Trade Access Programme (TAP). This year, briefings and round table sessions will be hosted in UKTI's Business Lounge and those that are interested can register for a free pass at this address: hannover2013@ukti-events.co.uk.
Making a sixth return to Hannover Messe is Hatfield-based Davall Gears, a company that specialises in precision gears and gearboxes for the aerospace, medical and defence sectors.
Howard Marshall, Davall's managing director, describes the event as 'like the UK's NEC - but on steroids', a position taken by former Engineer journalist Andrew Czyzewski who attended Hannover in 2011. Click here to read his account.