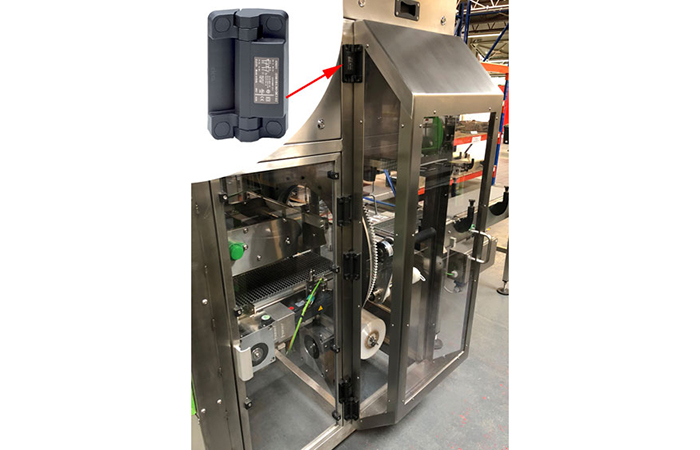 A common requirement for packaging equipment lines is the need for frequent access to adjust, correct, re-set or reprogramme. This a situation where the ingenious Elesa CFSW combined hinge and electrical cut-off switch provides a safe and simple solution.
Packaging lines are constantly developing to ensure cost-effective manufacture, often needing to incorporate new machines and especially to achieve low maintenance costs. The Elesa CFSW hinge-cut-off series helps simplify these machine guarding systems by eliminating the need for separate brackets and switches, and has delivered a significant cost saving in both components and fitting times.
Packaging machine manufacturers are especially conscious of waste, recycling and use of resources in their FMCG packaging marketplace where they are constantly seeking to minimize use of packaging materials such as cardboard and plastic wrap for their transit packs. CFSW safety switch hinges support that process.
Many packaging machines are often used in areas associated with regular wash-down cycles so the CFSW is highly suitable, offering IP67 dust and water protection.
The CFSW is double insulated and approved by IMQ CA02.04800 in compliance with EN 60947-1/2007 + EN 60947-5-1:2004 + A1/2009. Low voltage control auxiliaries. Approved by UL: E360222.l. It is available with different combinations of contacts with positive opening (2NO+2NC, 1NO+3NC etc.), and with different output positions of 8 pole male connectors or cables.
These robust units are tested to a B10d value of 2,000,000, are totally tamper-proof, and may be quickly and easily installed. The CFSW integrated cut-off hinge provides a simple, reliable and elegant solution to this personnel or equipment safety issue.
Further information regarding Elesa products may be found here.