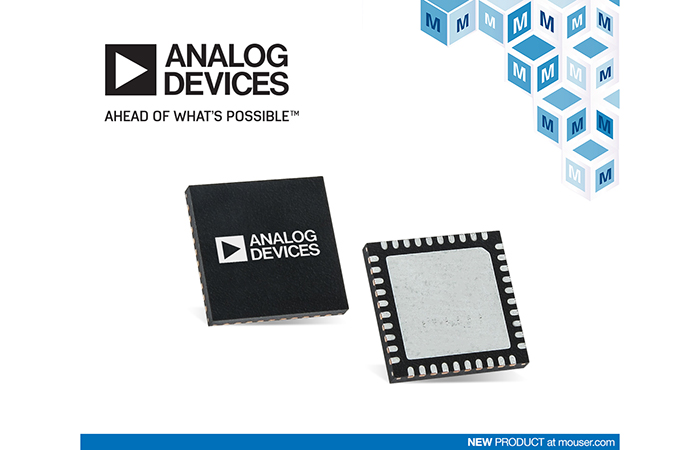 December 13, 2019 – Mouser Electronics, Inc., the industry's leading New Product Introduction (NPI) distributor with the widest selection of semiconductors and electronic components, is now stocking the ADRF5545A RF front end module from Analog Devices, Inc. The dual-channel, integrated radio frequency (RF) receiver front-end module is designed for time division duplexing (TDD) and massive multiple-input and multiple-output (mMIMO) applications that operate in the 2.4 GHz – 4.2 GHz frequency range.
As an authorized distributor, Mouser Electronics is focused on the rapid introduction of new products and technologies, giving customers an edge and helping speed time to market. Over 800 semiconductor and electronic component manufacturers count on Mouser to help them introduce their products into the global marketplace. Mouser's customers can expect 100% certified, genuine products that are fully traceable from each manufacturer.
The Analog Devices ADRF5545A, available from Mouser Electronics, is configured in dual channels with a cascading two-stage gallium arsenide (GaAs) low noise amplifier (LNA) and a high-power silicon single-pole, double-throw (SPDT) switch. The device features single supply operation and interface for CMOS control signals, simplifying inclusion in multi-channel hardware designs with repeatable performance over the complete system.
The ADRF5545A offers high RF power handling capability (averaging 40 dBm lifetime) together with high integration and advanced circuit architecture that minimizes the need for external components, making it ideal for 5G mMIMO antenna interfaces.
To learn more, visit https://www.mouser.com/new/analog-devices/adi-adrf5545a-front-end-module/.
With its broad product line and unsurpassed customer service, Mouser strives to empower innovation among design engineers and buyers by delivering advanced technologies. Mouser stocks the world's widest selection of the latest semiconductors and electronic components for the newest design projects. Mouser Electronics' website is continually updated and offers advanced search methods to help customers quickly locate inventory. Mouser.com also houses data sheets, supplier-specific reference designs, application notes, technical design information, and engineering tools.
About Mouser Electronics
Mouser Electronics, a Berkshire Hathaway company, is an award-winning, authorized semiconductor and electronic component distributor focused on rapid New Product Introductions from its manufacturing partners for electronic design engineers and buyers. The global distributor's website, Mouser.com, is available in multiple languages and currencies and features more than 5 million products from over 800 manufacturers. Mouser offers 27 support locations around the world to provide best-in-class customer service and ships globally to over 630,000 customers in 223 countries/territories from its 750,000 sq. ft. state-of-the-art facility south of Dallas, Texas. For more information, visit www.mouser.com.
About Analog Devices Inc.
Analog Devices is a leading global high-performance analog technology company dedicated to solving the toughest engineering challenges. We enable our customers to interpret the world around us by intelligently bridging the physical and digital with unmatched technologies that sense, measure, power, connect and interpret. Visit http://www.analog.com.
Trademarks
Mouser and Mouser Electronics are registered trademarks of Mouser Electronics, Inc. All other products, logos, and company names mentioned herein may be trademarks of their respective owners.