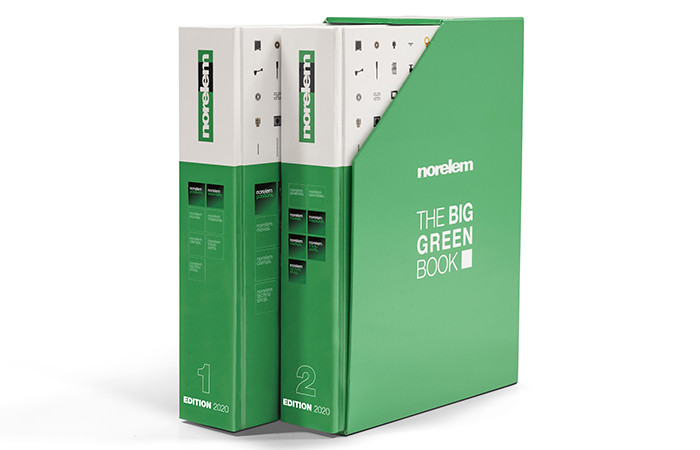 Engineers can now get their hands on norelem's latest iteration of its iconic engineering catalogue, THE BIG GREEN BOOK, which contains over 60,000 components.
Designed to help engineers find the parts and components they need fast, the 2020 Edition of THE BIG GREEN BOOK is the first time that norelem, the global standard component specialist, has split its catalogue into two volumes. Both volumes combined hold over 2,200 pages worth of components, data and reference guides.
Amongst the new products to join norelem's portfolio include duplex and triplex sprockets and roller chains, plastic spur gears, oil level gauges, premium indexing plungers and modular roller rails. 98% of the components are available from stock for fast delivery.
"THE BIG GREEN BOOK continues to be the indispensable reference guide for design engineers across the globe. At norelem, our strapline is "Find it. Get it. Go." and our product catalogue is a big part of this, helping engineers to quickly source the products they need to keep their projects in motion," said Marcus Schneck, CEO of norelem.
"With more components than ever, we've decided to split the catalogue into two parts. With a clear structure and better handling, we know it will help our customers with their day-to-day activity."
Printed in English and free to order, the catalogue is also available in eight additional languages and can be downloaded as PDF versions at www.norelem.co.uk
For more about norelem and to order your free copy of THE BIG GREEN BOOK, please visit www.norelem.co.uk or contact thebiggreenbook@norelem.co.uk.