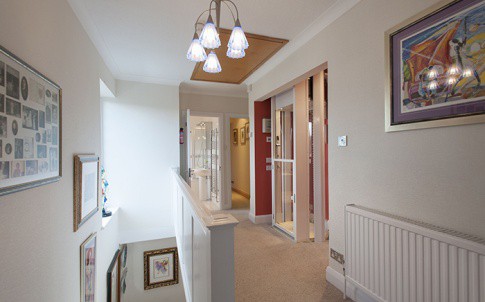 Home lifts specialist Stiltz Lifts offers property owners a new way to move around the home, in comfort, safety and style.
Breaking new ground in home lift design and engineering, Stiltz are transforming lives and creating multi-functional, intergenerational homes which can be used by all ages, with no restrictions from the stairs.
The company's latest collection of home lifts includes the elegant, capsule-shaped Stiltz Duo+ Home Lift – a discreet and practical alternative to a stairlift or hydraulic lift – and the Stiltz Trio+ Home Lift which has been designed to accommodate a full-sized wheelchair.
The Stiltz Duo+ Home Lift is so versatile, thanks to its innovative modular design, that it can be installed almost anywhere. With a modern grey aluminium finish, this domestic lift has a spacious, transparent body, allowing natural light to flood through. Its neutral colourway means it moves naturally with the seasons and compliments any choice of interior design.
Typically, the Stiltz Duo+ Home Lift is placed in a downstairs room such as a living room, travelling upstairs to a master bedroom or landing. It is even possible to have a Stiltz lift placed in the corner of a room, in the void of turning staircase or tucked behind a door in an airing cupboard or wardrobe. With a compact footprint of less than a square metre (1040mm x 760mm), the options for placement of the lift are virtually limitless.
This home lift can be installed quickly and easily as it does not require hydraulics or load bearing walls. Instead, the Stiltz lift is powered by a quiet self-contained motor and plugs straight into a standard mains socket making it powerful but energy efficient. The Stiltz Duo+ Home Lift travels quietly between floors, in under 30 seconds, on discreet self-supporting rails, using simple hold-to run controls.
Stiltz Lifts also offer the Stiltz Trio+ Home Lift which has been designed to offer more space and luxury. It accommodates a full-sized wheelchair with a gently-angled integral ramp making access simple. Alternatively, the lift can comfortably carry up to three people.
Enhance the travel experience further, with the optional extra of a thru-car design, allowing entry and exit from both sides of the lift for maximum maneuverability. An automatic door is also an option.
The Stiltz Trio+ Home Lift includes all the same features as the smaller Duo+ model but the car body has been specifically built with wheelchair users in mind. It has wide entry and exit points with a larger, but still unobtrusive, footprint at just 1040mm x 1378mm.
Both Stiltz lifts are packed with multiple safety features to ensure everyone remains safe – both inside and outside the lift, while top and bottom atmospheric lighting means the user can travel in safety at any time during the day or night. The lift includes two remote control handsets to call the lift from any floor at any time.