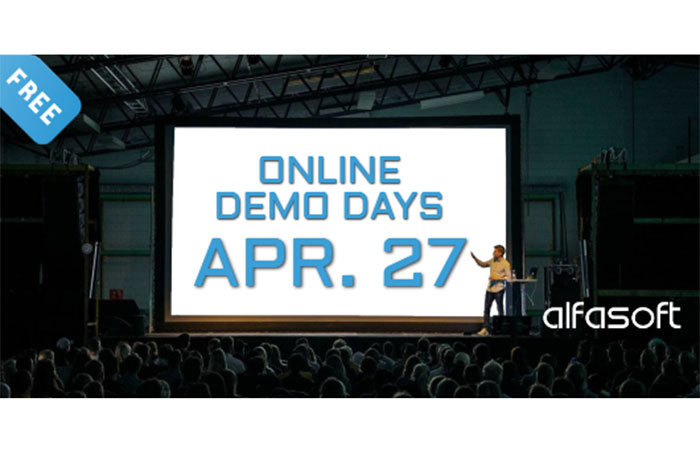 Don't miss your chance to attend our free seminars with live demonstrations and mini-courses on our most popular software solutions for researchers, engineers and developers.
Ask questions directly to our product experts and learn new tips and tricks.
Register now: https://start.alfasoft.com/odd2#tatsu-section-er62ooDJEVN
Wednesday, 27th of april – development and Engineering Day
CET 09-10: Sencha - Building Web Applications with Ext JS 7.5
Sencha Ext JS 7.5 gives us an amazing suite of tools to build large-scale web applications quickly and reliably. In this session I will introduce the Ext JS framework and give an overview of what it is, where it fits in the current landscape and how it enables us to build fast, maintainable web applications right out of the box.
We'll take a closer look at some of the most compelling features of the framework and do some demos to show what it is capable of.
CET 10-11: Embarcadero - Serving Enterprise data to REST in minutes with RAD Server
RAD Server enables developers to publish access to Enterprise data via REST API's in minutes thanks to its low code components.
In this session, Stephen Ball will share how to use RAD Server and FireDAC to connect to Enterprise data and share it rapidly via a secure fully featured MEAP that can be deployed on Windows or Linux servers ready for use on any device or platform.
CET 11-12: Intel - oneAPI Industry Initiative & Intel oneAPI Development Toolkits
The oneAPI Initiative is addressing the problem of adequately enabling heterogeneous programming given the emerging explosion in hardware diversity by offering a new cross architectures industry standard. The presentation will describe Intel's implementation of oneAPI standard and its development components offered as Intel oneAPI Toolkits showing among benefits also a few workloads being ported to oneAPI.
CET 12-13: Faronics - Cloud Deep Freeze
Faronics Cloud offers complete endpoint management, including patch management, imaging, remote control, inventory, and much, much more.
The package includes our famous Deep Freeze, a patented 'reboot to restore' solution which prevents unwanted changes to your PCs. It locks down your desired configuration while providing the ability to remove any session changes on reboot, thereby drastically reducing helpdesk ticket volume.
CET 13-14: Abaqus - Watch Abaqus SIMULIA in action
Our most popular simulation software presented to you by an expert.
Find out how SIMULIA customers, in a wide range of industries are using Abaqus to explore the real-world physical behaviour of products and materials, in order to improve performance, reliability and safety, while reducing development time and costs.
CET 14-15: Introducing Mathcad Prime 8 - Easier and more accurate engineering calculations than ever
Join us for this live presentation of the recently released Mathcad Prime 8. This new version of the industry-leading engineering math software features customer-focused enhancements to the symbolic and numeric engines, worksheet properties, user interface, and user experience. These enhancements will increase your productivity and enable you to solve, analyse, document, and share your most important engineering calculations faster and more accurately than ever.
The presentation will be useful for you, regardless if you are an expert user or new to Mathcad.
Size this opportunity to meet the PTC Mathcad Product Manager, Andrew McGough and share your Mathcad product development input, if you are an existing user. There will be time for questions, and you will get tips and tricks on how to best use Mathcad to optimise your work.
CET 15-16 Altair SimLab - Multiphysics Workflows with CAD Associativity
SimLab is a process-oriented multidisciplinary simulation environment to accurately analyse the performance of complex assemblies. Multiple physics including structural, thermal and fluid dynamics can be easily setup using highly automated modelling tasks, helping to drastically reduce the time spent creating finite element models and interpreting results. Altair's robust, accurate and scalable solvers can run either locally, on remote servers or in the cloud.
Contact us to receive free product trial and/ or product quote
+44 (0) 203 695 710