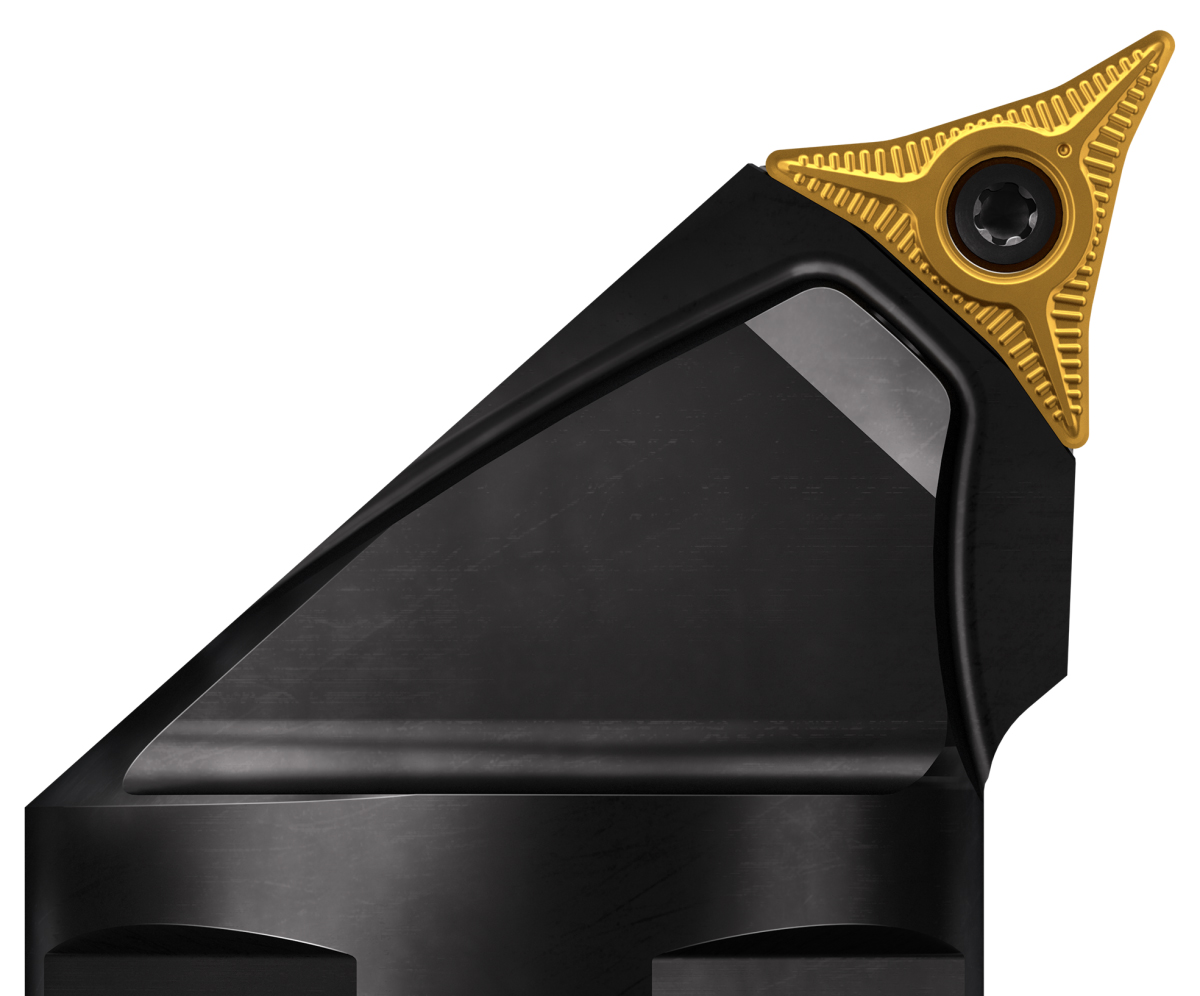 Unlike conventional turning operations – which have remained largely unchanged for decades – PrimeTurning allows machine shops to complete longitudinal (forward and back), facing and profiling operations with a single tool. The methodology is based on the tool entering the component at the chuck and removing material as it travels towards the end of the component. This allows for the application of a small entering angle, higher lead angle and the possibility of machining with higher cutting parameters. Furthermore, conventional turning (from part-end to chuck) can be performed using the same tools.
Sandvik Coromant believes that some applications could see productivity increases in excess of 50 per cent through the deployment of PrimeTurning rather than conventional techniques. Some of these improvements are due to the small entering angle and higher lead angle, which creates thinner, wider chips that spread the load and heat away from the nose radius. The result is both increased cutting data and extended tool life. In addition, as cutting is performed in the direction moving away from the shoulder, there is no danger of chip jamming (a common and unwanted effect of conventional longitudinal turning). Higher machine utilisation due to reduced set-up time and fewer production stops for tool changes also enhances overall productivity.
PrimeTurning will be particularly beneficial to manufacturing industries such as aerospace and automotive where there is a need to perform external turning operations in big batch productions or where multiple set-ups and tool changes are often required.
 "Experienced operators know that a small entering angle allows for increased feed rates," says Håkan Ericksson, Global Product Specialist at Sandvik Coromant. "However, in conventional turning they are restricted to using entering angles of around 90° to reach the shoulder and avoid the long, curved chips that a small entering angle characteristically delivers. PrimeTurning solves these problems by combining a perfect reach at the shoulder and the application of 25-30° entering angles with excellent chip control and maintained tolerances. This innovation presents countless possibilities to perform turning operations in much more efficient and productive ways. It's not just a new tool, but a totally new way of turning."
PrimeTurning is initially supported by the introduction of two dedicated CoroTurn Prime turning tools and the PrimeTurning code generator, which supplies optimised programming codes and techniques. CoroTurn Prime inserts have three edges/corners; one for longitudinal turning, one for facing and one for profiling, thus delivering efficient edge utilisation and longer tool life.
Two unique and dedicated inserts are offered: CoroTurn Prime A-type features three 35° corners and is designed for light roughing, finishing and profiling, while CoroTurn Prime B-type with its ultra-strong corners is designed specifically for rough machining. Suitable for ISO P (steel), S (heat-resistant super alloys and titanium) and M (stainless steel) category materials, nine CoroTurn Prime A-type and six CoroTurn Prime B-type inserts are currently available, with expansion to other materials envisioned for the future. The inserts are supported by 52 variants of tool holder, including Coromant Capto, CoroTurn QS and shanks.
The PrimeTurning code generator not only ensures maximum output but also process security with suitably adjusted feed rate and entry radius parameters. It creates ISO codes that are compatible with various CNC systems.