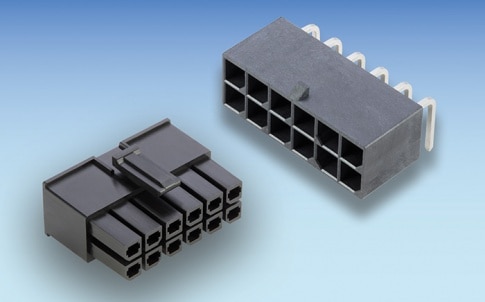 23A per contact, polarised mating geometry, sizes 16 – 23 AWG
Amphenol ICC's Minitek® Pwr 5.7mm Connector System for power applications requiring a high current solution is now available from TTI, Inc., a world leading specialist distributor of electronic components.  Featuring polarized mating geometry to prevent mis-mating and scoop-proof housings to prevent terminals from damage, Amphenol's Minitek Pwr 5.7mm Connector System is a flexible and comprehensive range providing a vertical through-hole and wire-to-board solution targeted at industrial & instrumentation, data, communications, consumer and military applications.
This range of board connectors has contacts rated up to 23A each, made from high-conductivity copper with either tin or gold plating.  As terminals are post-plated, they prevent corrosion from environmental contaminants including salt spray and gas. The positive locking feature on the connector housing has a low thumb latch operation that ensures secured mating retention. Operating temperature range for the Minitek® Pwr 5.7mm Connector System is -40⁰C to +105⁰C.
Electrical performance includes: low level contact resistance of 2mΩ max. (initial); insulation resistance of 1000MΩ min; voltage rating of 600V AC (RMS)/DC and contact resistance for tin plated options is 10mΩ and gold plated options is 5mΩ max. Mechanically, the tin-plated connectors are rated for 25 cycles and gold plated connectors to 200 mating cycles.
Specific application examples include 1U rack boxes, WiMax boxes, microwave ovens, refridgerators, HDD applications, desktop PCs, blade servers, ultrasound equipment, defibrillators, chemical detection systems, radar equipment and many others across multiple industry sectors.