Analog Devices, Inc. (ADI) has introduced the DS28E30 1-Wire ECDSA Secure Authenticator, a cost-effective solution to detect and help protect products from counterfeiting or misuse.  Combining a fixed-function cryptographic toolbox based on the industry standard FIPS 186 elliptic curve digital signature algorithm (ECDSA), secure storage of keys and application data, and the single-contact 1-Wire interface, the device easily integrates into existing or new designs with minimal complexity.
https://www.maximintegrated.com/en/support/videos.html/vd_1_qnc540qq
The DS28E30 provides secure features to enable use management of limited life tools, sensors, and other peripherals.  These include a monotonic, non-resettable, decrement-only counter and 1Kbit of general-purpose EEPROM that can optionally be ECDSA protected to store application data including end-product life-cycle information.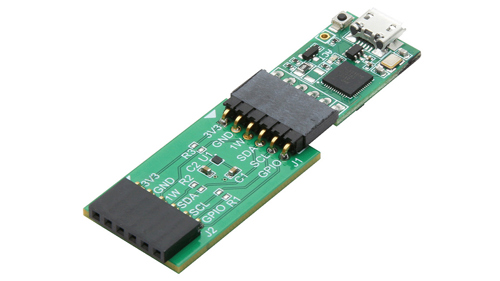 DS28E30 Key Features:
FIPS 186 ECDSA-P256 based challenge/response authentication
Single pin 1-Wire interface for minimal interconnect requirement
Each part factory programmed with ADI public key certificate for guaranteed authenticity
3Kb secure EEPROM for user memory, keys, and certificate
Wide operating range: 1.62V-5.25V, -40C to +85C
Small 1.2mm x 1.4mm 4-ball WLP with 0.5mm pitch
Pricing and Availability
Product

Full

Production

 

Price Each Per 1,000

Packaging

DS28E30

Now

$0.66

4 Ball WLP
About Analog Devices
Analog Devices, Inc. operates at the centre of the modern digital economy, converting real-world phenomena into actionable insight with its comprehensive suite of analogue and mixed signal, power management, radio frequency (RF), and digital and sensor technologies. ADI serves 125,000 customers worldwide with more than 75,000 products in the industrial, communications, automotive, and consumer markets. ADI is headquartered in Wilmington, MA. Visit http://www.analog.com.
# # #
All trademarks and registered trademarks are the property of their respective owners.
Contacts:
Jackie Rutter                                                                          
Director of Marketing, Worldwide at Analog Devices                     
Tel: +44 7581 573724                                                           
Solveig Loesch                                                                                  
Senior Manager, EMEA Marketing at Analog Devices                    
Tel: +49 89 85799 561                                                                      
Alan Timmins
Mainly Marketing Services
Tel: +44 1252 629937